Not Just for Civil War Buffs
by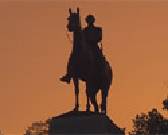 Because I'm a movie addict, most of my knowledge about the American Civil War comes from films like Gone with the Wind and Cold Mountain. Consequently, whenever I think of that period in U.S. history, instead of focusing on battles, I visualize Scarlett O'Hara or Nicole Kidman struggling to survive a series of dreadful hardships brought on by the war. Fortunately, after watching Gettysburg – Stories of Valor on DVD, I have a better understanding of an important Civil War battle -- the one that took place on what Abraham Lincoln called "hallowed ground."
Why focus so much attention on Gettysburg? Because the Battle of Gettysburg was a Union Army victory that became a turning point in the war and changed the course of U.S. history. Some historians call it the bloodiest battle ever fought by Americans.
This entertainment-based documentary, expertly narrated by Keith Carradine, features photography of the Gettysburg battlefield and emphasizes the impact of the battle on individuals who experienced it. Through soldiers' letters home, personal photographs and other artifacts, viewers get a heightened sense of "being there." Some of these stories are quite moving, especially the one about John Burns, a colorful elderly gentleman who insisted on joining the front lines.
Having recently seen a documentary filled with "talking heads," I applaud director Mark Bussler for avoiding this technique and concentrating on cinematic elements in Gettysburg. Bussler says he wanted to make a documentary packed with information but also one that would "capture the natural, scenic beauty of the Gettysburg battlefield on film while telling the fascinating stories of the men who fought there." Bussler adds that the goal was to make a film that was "entertaining, colorful and educational."
Civil War historians David Neville and Michael Kraus, who also served as Military History Advisor for Cold Mountain, contributed their expertise to this ambitious project. "The two of them know so much that we had to condense and edit their thoughts into the three-hour production," explains Bussler. "Their commentary track uncovers additional information about the battle and details that just wouldn't fit into the film."
The Gettysburg – Stories of Value box includes two DVD discs. The first disc focuses on the Battle of Gettysburg, the second covers details of battlefield medicine, leadership of Union and Confederate generals and additional stories of courage. Rounding out the bonus items are a feature-length commentary track and a 20-minute documentary about the cultural significance of Gettysburg.
Gettysburg – Stories of Valor is an excellent example of how history can entertain and educate at the same time.
(For more information, visit the official site. Released by Inecom Entertainment Company; not rated by MPAA.)