Latest Reviews

- By
Don't give up on Dumplin' because the first few minutes seem like a commercial for Dolly Parton. That part of the film shows us how important Parton has become to the main character and her friends. Later Parton sings some lines from "Girl in the Movies"-- an Oscar-worthy...



By
Think The Favourite is just another drab royal period piece? Think again. First, this film is from Yorgos Lanthimos who brought us the twisted The Killing of a Sacred Deer and the ambitious The Lobster. The guy is simply one of...


- By
I was one of Gary Hart's many fans back in 1988. Handsome, intelligent and a successful senator from Colorado, he seemed to have the Democrat Party's nomination for President in the bag. The Front Runner, directed by Jason Reitman, reveals how everything came tumbling...


- By
Director Julian Schnabel's At Eternity's Gate offers viewers a mesmerizing exploration of painter Vincent Van Gogh's last days. Oscar nominee Schnabel (The Diving Bell & the Butterfly), also a painter, wisely chose Willem Dafoe (The Florida Project) for...

Latest Features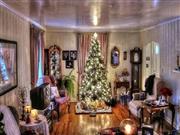 - By
Movie Addict Headquarters is presenting our "It Had To Be Christmas Again " episode On Demand from December 10 through December 17. This popular encore offering features lovely Lizette Amado-Bettinger and her late great husband George Bettinger reading the first chapter of IT...



By
Love is all around during the holiday season. That's why Movie Addict Headquarters is presenting a special medley of songs about "Christmas and Love" on December Fourth. During this fifteen minute episode, listeners are encouraged to sing along with such performers as Judy Garland,...




Grab-Bag Review

Fast & Furious is the fourth movie in "The Fast and The Furious" series, and it's pretty clear by now the whole thing's on auto-pilot. Absolutely nothing new happens here -- you get what you'd expect, which...