Latest Reviews

- By
Imagine great actresses like Susan Sarandon, Kate Winslet and Mia Wasikowska in the same movie! That's probably all you would need to know about its high quality. But throw in the director of Notting Hill (Roger Michell) and the always reliable Sam Neill. Now you know...


- By
Maisie Williams may not look like her Game of Thrones character in The Owners, but she certainly has some brave and powerful moments in this unusual horror thriller. She plays Mary, a young lady reluctantly involved in a robbery attempt because of her boyfriend (Ian...


- By
Gather 'round all you puzzle lovers. Have I got a challenge for you! With twisty logic, time-altering physics, and an alternate existence that defies reality, the highly anticipated new thriller called Tenet is the mental challenge that puzzle masters have trained...


- By
From the very first minute All Together Now begins with a rousing "clapping song," led by an enthusiastic teenager, to the end credits featuring her lovely voice singing a key song from the film, my husband and I fell in love with this delightful character played by Auli"l...

Latest Features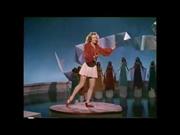 - By
During my teens next to the movies I loved tap dancing best. Because my ambition was to become a dancer in the movies, I decided to write for advice from someone who knew all about it. I picked Vera-Ellen, the wonderfully athletic dancer who co-starred with Danny Kaye in Wonder...


- By
Taking a poetry course in 2010 has proven significant. Back then, I enjoyed rhyming stanzas but seemed stuck as to worthy subject matter. Given Betty Jo Tucker's example, I have endeavored to expand my horizons by making cinema my muse. On each occasion, I try to find new ways of rhyming...




Grab-Bag Review

Out of nowhere, The Secret of Kells was nominated for an Oscar. Growing from thoughts during the making of that 2009 delight, Song of the Sea is cut from somewhat the same cloth but a "spiritual follow up rather than...