Latest Reviews
Sneak Preview

- By
Evan Hansen suffers from severe anxiety and cannot function normally in director Stephen Chobosky's film adaptation of the hit Broadway musical, Dear Evan Hansen. In an attempt to make Evan (Ben Platt) learn to value himself and overcome crippling anxiety, his psychiatrist...


- By
Ankahi Kahaniya means "Untold Stories" -- and this thought-provoking Hindi language film tells three unusual stories about love, loneliness and longing. For full disclosure, I enjoy anthology movies and wish there were more available each year. For some of us, that's the...

- By
You would think the world didn't need another Cinderella movie. After all, Disney released three animated films about this popular Grimm Brothers fairy tale as well as a live-action Cinderella. And 20th Century Fox gave us Ever After, my favorite starring Drew...

- By
What an idea! Take a movie like She's All That (1999) and switch genders. Place the story in 2021, hire TikTok darling Addison Rae and handsome Cobre Kai actor Tanner Buchanan. The rest should be easy. Just wait for teen audiences to appreciate your finished product He's All Th...

Latest Features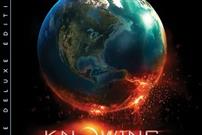 - By
In this article, I will be analyzing the original motion picture soundtrack and the "Deluxe Edition" of Marco Beltrami's Knowing. When Beltrami applies himself well, it's difficult to argue with the results: Mimic and Gods of Egypt being ...

- By
Films about movies fascinate me. Why wouldn't they? After all, I'm a practicing movie addict. As I mentioned in an earlier ReelTalk article, "behind-the-scenes shenanigans, studio politics, self-absorbed stars, frustrated directors, ambitious screenwriters, and avid film fans make...




Grab-Bag Review

With the mild misleading title Stranded: I've Come from a Plane That Crashed on the Mountains, French-based Gonzalo Arijón documents seventy-two days of frozen misery, an amazing emergence from it and the extreme measure...