Latest Reviews
Sneak Preview
- By
At the center of Saving Mr. Banks, the fascinating back-story of how Disney's beloved classic Mary Poppins made its way to the big screen, is the relationship between the book's prickly author P.L. Travers and Walt Disney himself -- a relationship that could be described...

Sneak Preview

- By
For some reason or other, naming my computer makes it easier for me to deal with cyberspace. My grandmother felt the same way about her car. She called her automobile "Rosebud," and I'll never forget hearing frequent one-sided conversations while riding along with her. "Let's go,...



By
The Coens did their homework but, despite East Coast higher educations, their Minnesota Midwestern roots show through in Inside Llewyn Davis. In the pre-Dylan Village folkie scene, no one waited in line, since customers were just packed in inside; bouncers may have patrolled...


- By
James Franco and Jason Statham, both admirable actors, could not breathe one interesting or original moment into Gary Fleder's Homefront. One has only to look at the words in the rating -- strong...

Latest Features
- By
Illusions or tricks of the eye enhance movies in ways that appear almost magical. No wonder special effects are so important in filmmaking! That's why we've invited Dragon Dronet and Chuck Skull to be our guests on Movie Addict Headquarters during our December 10th episode. Dragon...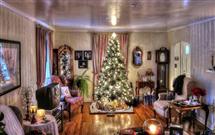 - By
As a special pre-holiday treat on Tuesday, December 3, showbiz stars George and Lizette Bettinger will read the first chapter of IT HAD TO BE US, an award-winning romantic memoir now being adapted for the screen. The Bettingers play co-authors Harry and Elizabeth...




Grab-Bag Review

A near miss with potential rather than a "terrifying, apocalyptic thriller," Brad Anderson's Vanishing on 7th Street fits into a long line of semi-horror offered mostly in B movies. The few left standing when all about them...