Latest Reviews

- By
Will Ferrell almost always makes me laugh, so I try to see all of his movies. In fact, I smile just thinking about some of the quirky characters he's played on the big screen and on SNL No matter how outrageous, Ferrell gets to the amusing...


- By
Acclaimed director Agnieszka Holland calls Mr. Jones "a tale about fake news, alternative realities, corruption of the media, cowardness of governments, indifference of people." She believes the movie tells an important timeless story. And I agree with her. Although set...


- By
YouTube Videos are now considered among the arts. Hundreds of writers plus anyone who likes to entertain and receive money have joined this new arena. Selfie Dad, starring comedian Michael Jr., pivots from theatrical to PVOD release for Father's Day and is scheduled...


- By
Who else but filmmaker Spike Lee could successfully incorporate such assorted filmmaking techniques as wipes, title cards, 16mm, 2.40:1 widescreen, black & white, flashbacks, archival footage, and photo stills into a single film that takes on such varied themes as...

Latest Features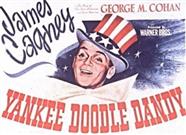 - By
During the entire month of July, Movie Addict Headquarters pays tribute to James Cagney by presenting a vintage episode about his illustrious show biz career. Noted film critics James Colt Harrison, Diane Saenger and A.J. Hakari join in the celebration of Cagney's many movies,...




Grab-Bag Review

Happy Death Day should have been good. Groundhog Day redone as a teen slasher horror? Are you kidding me? Count me in! The opportunity to watch a miserable prig of a person on the receiving end...