Latest Reviews
- By
Much of the fun and joy of watching a Star Wars movie these days comes not from discovering something new, but rather from revisiting everything old with a new set of eyes. Whether the original series of sequels and prequels or within the Star Wars Story...

- By
Dark Crimes, a dreary thriller starring Jim Carrey, comes across as a real downer. As a longtime Carrey fan, it pains me to see him in a film as poorly presented as this one. The lackluster plot and cinematography are hard to take. And the dialogue? Too confusing most of the time....


- By
Like the Basket Weaving 101 class offered to help fulfill those elective credits in college, Life of the Party should have been a slam dunk. Just put the funny person in funny situations, roll camera, cut, print, and go to the bank. But there's a reason I'm not a...


- By
Who doesn't love a good comedy? Sadly, The Con Is On proves the old saying, "Dying is easy; comedy is hard." Everything in this movie seems off kilter. And that really surprised me. I didn't think anything could go wrong because of the film's great cast. Just look at these...

Latest Features

- By
Below are more soundtrack reviews and poems. Apt Pupil (John Ottman, 1998) ** Despite John Ottman's brilliance as a composer, Apt Pupil rarely reflects the creativity or inspiration behind The Usual Suspects and Incognito. Several cues, notably...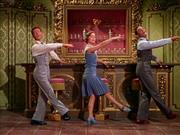 By
Because May 25th is National Tap Dance Day, Movie Addict Headquarters revisits a lively discussion with avid dance fan/tango expert Fausta Rodriguez Wertz, co-host Jazz Shaw, producer Nikki Starr -- and yours truly, a longtime happy tapper. This ON DEMAND presentation is...




Grab-Bag Review

A modern love story filmed in a style reminiscent of glorious classic musicals like Singin' in the Rain and Bandwagon, La La Land emerges as a bittersweet treat for the eyes, the ears and the heart. It takes place...