Latest Reviews
- By
Are there people in this world who do good deeds without expecting anything for themselves? Good Sam explores that question in a straight-forward movie with no flashbacks, no flash forwards, no CGI and no superheroes. Rather brave, don't you think? Instead,...

- By
Many people have plans or ideas about what they would love to do. Seldom do those dreams come true. But that's not the case with John Chester and his wife Molly as this intriguing documentary, The Biggest Little Farm, unveils. The Chesters picked 200 acres of land...


- By
Take a look at this list of talented women comics: Amy Poehler, Maya Rudolf, Ana Gasteyer, Rachel Dratch, Tina Fey, Paula Pell. Now imagine them all together in a film comedy. It should be filled with laughs, right? I agree. But that movie is not Wine Country, folks....


- By
The Hustle, a comedy starring Anne Hathaway and Rebel Wilson, is an almost identical remake of the 1988 classic comedy Dirty Rotten Scoundrels which starred Michael Caine and Steve Martin -- itself a remake...

Latest Features

- By
Fans throughout the world are mourning the death of Doris Day who recently passed away at the age of 97. It's impossible to know how many people have been touched by her wonderful work as an actress, singer and animal rights activist. And I am lucky to be one of them. In fact, she...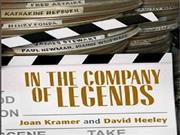 - By
From Monday (May 13) through Sunday (June 2), Movie Addict HQ presents Hollywood Legends Encore as our On Demand show. During this popular episode, co-authors Joan Kramer and David Heeley discuss In the Company of Legends, their behind-the-scenes book about...




Grab-Bag Review

The good news first: Army of Shadows/L'Armée des ombres is getting its US première, albeit thirty-seven years late. With redone subtitles and translation commissioned...