Double Dutch
by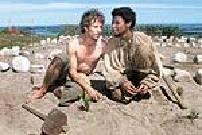 Classic treatments of the "Third Sex" appeared from the brief carousel that was the Weimar Republic, but the English-speaking world has only sputteringly produced serious homosexual themed cinema, often adapting stage or literary material or in non-commercial undergrounders. Despite successful exceptions like Making Love, Midnight Cowboy, Kiss of the Spider Woman, My Own Private Idaho or The Crying Game, the topic is still delicate in Puritan culture, and rare, a situation not likely to be rectified by the sincere but uneven Canadian/South African "based on a true story" Proteus.
Video activist co-writer Jack Lewis notes that, 1970s-80s energies occupied in anti-apartheid struggle, gay rights agitation came late to his native South Africa, where, through the late nineteenth century, Roman Dutch Law criminalized sodomy as a capital offense. Homosexuals were persecuted in Mother Holland, as well, but blacks in particular suffered in the colony. However, although "the intersection of desire and race" digs deep into the nations' psyches, no one had yet linked this convergence with the additional taboo of same-sex relationships.
In 1998, Lewis uncovers the Middle Dutch transcript of a 1735 black-white sodomy trial, translates it into Afrikaans then English, and approaches John Greyson. Following much correspondence and several drafts, the co-writers and –producers come up with a script which the latter will direct. More than a half-dozen title changes later, Proteus is the experimental and heartfelt but confused, not quite successful result.
A member of the original Khoikhoi inhabitants -- Hottentot is a European misnomer -- young herdsman Claas Blank (Rouxnet Brow) is arrested for rustling, judged not guilty but sentenced, anyway. for imagined insubordination, "to only ten years' hard labor" on Robben Island, off Cape Town. Occurring mainly on that penal colony, now famous for the Nelson Mandela incarceration, with brief bits on Seal Island and the mainland, in Amsterdam's gay Serpent Tavern and Edinburgh, the film imitates the Loncraine-McKellen Richard III and, thematically closer, Jarman's Edward II, in salting a mid-eighteenth century setting with props and costume from two centuries into the future. Relating past oppression with present, the device is justified, but the additional mix of several languages (with spoken Dutch at times unaccountably subtitled in Dutch) is mostly a mere trick, as are some central images which are revealed as "just in your imagination," along with a dragging in of a past event in Batavia.
On the island, Blank becomes involved in a homosexual relationship with gentle white sailor Rijkhaart Jacobsz (Neil Sandilands). For reasons not made clear, East India Company commander Sergeant Scholz (Jeroen Kranenburg) and other officials turn a blind eye for ten years (shortened from the original document's seventeen). Such relationships were (and are) not uncommon among prisoners and also among whites like married Virgil Niven (Shaun Smyth), the natural scientist who, accompanied by male lover Lourens (Brett Goldin), catalogues the island's flora. Blank's bilingualism and intelligence attract the Scotsman, who pumps the native for plant names, remedies and legends as handed down from grandfather (Illias Moseko) through the mother (Katrina Kaffer). Physically attracted as well, and not knowing that Jacobsz had witnessed his sexual orientation in Holland, Niven returns to Europe to publish, only to find his authorship usurped by Linnaeus. His gift, nevertheless, is the naming of Ptotican Africanae (though Protea of the family Proteaceae was not, in fact, named until 1825).
Sexual jealousy will bring about a resolution in convict Munster's (Robin Smith) accusations and soldier Willer's (Grant Swanby) sadism. Running from Amsterdam, where Lourens was among seventy homosexuals garroted in public Dam Square, Niven sails back to the Cape, inadvertently causing a crisis, as the film closes as it opens, with sexual flowers and a Rembrandtesque trial, to awful "Devil's Mollies" lyrics by director Greyson.
Homophobia and hypocrisy, history and legend, racism and jealousy, cruelty and love, all figure in, and prove too much. In muted old-stock color for the sun-blanched land (PAL D-Beta blown to 35 mm), period European and traditional African music as the score, Proteus has style, and much to say, but gets lost and blunts its effect.
(Released by Strand Releasing; not rated by MPAA.)