Chills Galore
by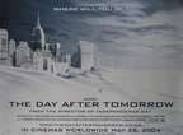 If huge chunks of ice start falling on your head, beware. It might not be the mother of all hailstorms. Instead, it could mean another Ice Age is about to envelop our planet. In The Day After Tomorrow, that's one of the first signs of this chilling disaster. There will also be other warnings -- such as tidal waves, floods, tornadoes, hurricanes, and wolves gone wild. It's only a movie, you tell yourself. But, oh my, how real filmmaker Roland Emmerich (Independence Day) makes everything look and feel!
I'm extremely sensitive to cold, which probably explains why this disaster film worked so well for me. Watching everything -- even buildings -- slowly freeze on the big screen chilled me to the bone, and I was sorry I brought such a flimsy jacket with me to the theater. I'm not a big fan of disaster movies, but The Day After Tomorrow made quite an impression on me.
Splendid special effects, brilliant art direction and convincing performances overshadow the film's rather silly human-interest situations, some of which are harder to believe than the catastrophes happening around them. A father (Dennis Quaid) walks through the blinding snow from Philadelphia to New York to find his son (Jake Gyllenhaal); a group of people ignore warnings to stay inside a New York library only to meet an icy fate; others remain inside and burn books to keep warm, even though burning other things would make more sense; a deserted Russian ship miraculously appears alongside the library and plays an important role in saving an injured student (Emmy Rossum). Such farfetched incidents may be par for the course in movies of this genre, but that doesn't stop me from longing for intelligent storytelling.
I admire the cast members here for rising above unreasonable situations and showing why they are such sought-after actors. Quaid endows his character, a climatologist no one will listen to, with an intensity of purpose similar to his work in The Rookie; Gyllenhaal again displays the soulful charm I praised so highly in Moonlight Mile; and Rossum (Nola) exudes sweetness and warmth that could melt even the coldest heart. Sela Ward (TV's Once and Again) and Ian Holm (The Sweet Hereafter) appear too briefly, but they excel as Quaid's ex-wife and sympathetic elder scientist, respectively.
Wouldn't it be great if this movie inspired us to take the problem of global warming more seriously? (I know what you're thinking: how can an Ice Age result from global warming? But Quaid's character explains his theory early on in the film). Emmerich certainly drives home his point concerning mass consumption and pollution as contributors to drastic environmental changes. Besides being an exciting and suspenseful movie, The Day After Tomorrow should be a wake-up call for us all.
(Released by 20th Century Fox and rated "PG-13" for intense situations of peril.)