Julia Tops as ERIN BROCKOVICH
by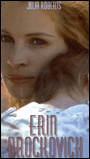 Some people don't have to follow those fussy "dress for success" rules. Case in point --- Erin Brockovich as played by Julia Roberts in the movie of the same name. Although hardly the attire expected of someone working in a lawyer's office, our heroine's wardrobe includes see-through blouses, low cut dresses, skin tight mini-skirts, and the highest high-heeled shoes she can find. After all, single mom Brockovich was once Miss Wichita. She thinks this is how an ex-beauty queen should dress.
It's obvious Brockovich never took a course in "How To Win Friends and Influence People" either. She is confrontational and sometimes even foul-mouthed. But her drive, guts, and determination help win the largest settlement ever paid in a direct-action lawsuit in U. S. history.
Roberts (Runaway Bride) portrays Brockovich with even more than her usual screen charisma. She brings incredible energy and enthusiasm to this demanding role (she's in practically every scene), making it one of her best performances to date. Co-stars Albert Finney (Simpatico) and Aaron Eckhart (In the Company of Men) do themselves proud too.
Finney's interpretation of lawyer Ed Masry, Brockovich's longing-for-retirement boss, emerges as a highlight of this riveting film. In my opinion, Finney can look more amazed by surprises than any other actor today, and his character gets plenty of these from the unconventional Brockovich. When he asks how she plans to obtain important files from a male clerk, she leans over seductively and replies, "They're called boobs, Ed!" Exact opposites, Brockovich and her boss clash about fashion as well as more important issues while working together to help their clients.
Eckhart finally gets a chance to play a sympathetic character here. He's a big bear of a biker who lives next door to Brockovich and takes care of her kids while she's off on important crusades. Projecting warmth and tenderness in his scenes with the children, Eckhart comes across as the answer to a single mother's prayers.
Like John Travolta's A Civil Action, this outstanding drama deals with efforts to make a big corporation pay for illnesses caused by contamination of the environment. But it does an even better job of showing the many challenges faced by a single woman who must work outside the home while raising small children.
Expertly directed by Steven Soderbergh (The Limey), Erin Brockovich is based on a true story. And, it's written with heart by Susannah Grant, a screenwriter whose track record of fine movies about women is quite impressive. Grant's previous credits include the very popular Ever After and Disney's acclaimed Pocahontas.
In spite of its early release this year, I'm hoping Erin Brockovich will not be forgotten during the next round of Oscar nominations.
(Released by Universal/Columbia Pictures and rated "R" for strong language.)