Courage & Comics
by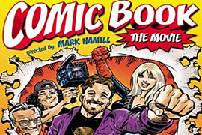 I've never been a comic book fan, so imagine my surprise at how much I enjoyed Comic Book: The Movie, a clever mockumentary showcasing the longstanding popularity of comics and the people who love them. Directed by and starring Mark Hamill, this amusing film takes place mostly at San Diego's Comic-Con, a convention where artists and wildly costumed participants come together to share their adoration for favorite comic book characters.
Bearded and bespectacled, Hamill (Star Wars) portrays Donald Swan, an elementary school teacher and comic book historian who's also a BIG fan of the old Commander Courage comics. When called upon to serve as technical consultant for a movie about his beloved superhero, Swan tries to sabotage efforts of bigwigs at Timely Studios to update Commander Courage and his sidekick Liberty Lad. Turn Commander Courage into a character called "Codename: Courage" and Liberty Lad into "Liberty Lass?" Not if Swan has anything to say about it.
With his scholarly look and determined performance, Hamill lends a believability to his role here -- even in the craziest scenes, such as when Swan persuades Bruce Campbell (Bubba Ho-Tep) to consider playing Commander Courage. He even talks Campbell into trying on a homemade Commander Courage helmet. Believe it or not, Campbell likes it! ("You can still see your eyebrows," Swan assures him.)
Many of the characters in Comic Book: The Movie are played by actors who have provided voice talent for such hit animation shows as SpongeBob SquarePants, Futurama, Lilo & Stitch, Pinky and the Brain, Scooby-Doo, and Jimmy Neutron. They all seem to be having a great time in this flick, and judging from their panel discussion (included in the DVD bonus features), they genuinely love working together. Adding to the fun are appearances by Matt Groening, Stan Lee, Ray Harryhausen, Hugh Hefner, Jonathan Winters, Sid Caesar and Kevin Smith.
Everything may be a bit disorganized in Comic Book: The Movie, but isn't that what it's like attending conventions and making movies? I'm becoming more and more favorably impressed with the mockumentary genre -- which includes such gems as This Is Spinal Tap, Waiting for Guffman, Best in Show , A Mighty Wind -- and I'm pleased to put Comic Book: The Movie on this distinguished list.
DVD bonus materials include audio commentary by Mark Hamill and cast, a "Behind the Voices" featurette, the Commander Courage radio show, Donald Swan's complete interview with Bruce Campbell, Stan Lee "On Comic Books," Donald Swan's in-depth interview with Kevin Smith and the traditional "Deleted Scenes & Bloopers" reel.
(Released by Miramax and rated "PG-13" for language, sexual content and some drug references. Bonus materials not rated or closed captioned.)