An Evil Place
by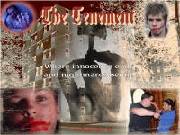 In the mood for an unusual horror flick? Then check out The Tenement, winner of the "Best Horror Feature" Award at the Third Annual Putnam County Film and Video Festival in New York. It's gory, campy and scary -- three important elements to fans of this genre. Focusing on the Evil existing in a tenement building, the film depicts its impact on the lives of four individuals residing there over the course of two decades. And it's not a pretty sight!
Consider Ethan (Joe Lauria), a horror-flick addict who must take care of his demanding alcoholic mother (Doreen Valdati). After a humiliating confrontation with his filmmaking idol Winston Korman (Michael Gingold), Ethan flips out -- and the notorious Black Rose Killer is born.
Next, there's Sarah (Carol DiMarsico), a mute who spends most of the time listening to the radio. When attacked by a neighbor (John Sudol), who's a rapist, she receives strange and horribly successful help from beyond.
And don't forget Jimmy (Mike Lane). He thinks he's turning into a werewolf. Could he be right?
Finally, there's a taxi driver (Ed Shelinsky) who picks up women, then kills them. Not to worry. He gets an extremely bloody comeuppance.
According to writer/director/producer Glen Baisley of Light and Dark Productions, The Tenement is part of a horror trilogy. "All of the movies take place in the fictitious town of Fairview Falls," he explains. "They are written to be stand alone movies not requiring the viewer to have seen the others but add to their viewing experience if they have."
Kudos to Baisley's small independent production company for aiming to "breathe life into an otherwise stagnant industry flooded with shameless rip-offs." However, although The Tenement resembles no other horror flick I've seen, it contains more sexually explicit material than necessary and a few performances too over the top -- even for a movie of this type.
Still, the film introduced me to some interesting actors with genuine potential. Standing out among that group are Joe Lauria, who projects a Jim Carrey-like aura and Mike Lane, who almost convinced me he believed in his werewolf transformation.
Fear of the Dark (2001) is a sequel to The Tenement, and Sins of the Father (2004) concludes the trilogy.
(Released by Brain Damage Films; not rated by MPAA.)