That's Dancin'!
by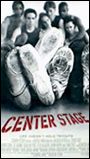 Bloody feet, aching muscles, strict diets, and rigorous physical workouts may seem more appropriate for Olympic athletes than dancers. But viewers lucky enough to see Center Stage will learn how much these sacrifices apply to wannabe ballet stars too. Filled with sensational dancing by talented newcomers, this musical drama pleases the eye while emphasizing such admirable principles as courage, dedication, and self-awareness.
The story follows a group of students vying for spots in an exclusive professional dance company. One of these students, a striking blonde named Jody (Amanda Schull), has trouble with her "turn-out" and is told she may not make the cut. Another student, Charlie (Sasha Radetsky), falls in love with Jody. The group also includes: Eva (Zoe Saldana), who has a bad attitude learned on the streets of Boston; Maureen (Susan May Pratt), an overachiever keeping her weight down by purging; Erik (Shakiem Evans), a gay man who lends support wherever he can; and Sergei (Ilia Kulik), a young Russian who sometimes prefers Salsa dancing to traditional ballet.
When a famous ballet star/choreographer (Ethan Steifel) makes a play for Jody, the usual love triangle develops. That's enough about the film's soapy plot. Dancing is the most important thing in Center Stage. And it's great!
I'm glad I didn't pass up this opportunity to watch Steifel, considered by many to be the most advanced male dancer in the world, in a dazzling performance of the George Balanchine-choreographed Stars and Stripes ballet. He's also unforgettable in an exciting jazz class sequence. Steifel, a principal dancer with American Ballet Theatre, seems to defy the laws of gravity --- and with no help from computer enhanced special effects. Radetsky, another member of the American Ballet Theatre troupe, gives Steifel serious competition. It's difficult to decide which of these fine artists to watch during the closing Rock Ballet number. Kulik (yes, the champion ice skater!) and Saldana also shine in a romantic ballet set to music from Rachmaninoff's second piano concerto.
The film's vibrant dancers leave most of the acting to Peter Gallagher (American Beauty) and two-time Tony Award winner Donna Murphy. Playing the egotistical head of a prestigious ballet company, Gallagher is totally convincing. Murphy's strong portrayal of a strict dance instructor shows why she is such an acclaimed stage actress. Hopefully, viewers will see more of her on screen in the future.
Director Nicholas Hytner (The Madness of King George) obviously used his knowledge of Broadway musicals while working on this film. Winner of a Tony as Best Director for Carousel, he also directed the popular Miss Saigon. In addition, choreographers Susan Stroman and Christopher Wheeldon make an impressive team. Stroman previously won a Tony for her Show Boat choreography, and Wheeler has choreographed several ballets for the New York City Ballet.
Although Center Stage may not be in the same class as those fabulous MGM musicals like An American in Paris and Singin' in the Rain, it's definitely an entertaining look at the joys and challenges of the world of dance.
(Released by Columbia Pictures and rated "PG-13" for language and some sensuality.)