Heartwarming -- But Needs More Static
by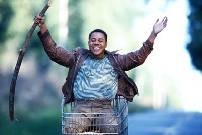 Nothing too terrible or too wonderful happens in this poignant movie about the bond between a white high school football coach and a mentally retarded black man nicknamed Radio. Like its title character, the film -- set in 1976 in a small South Carolina town -- broadcasts at a low, pleasant frequency.
Radio was "inspired by a true story" and since it's not particularly inspired, nagging questions arise. The filmmakers get credit for resisting sensationalism, yet too many potentially dramatic moments happen off-camera, such as the inciting incident when members of the football squad hog-tie Radio and lock him in a shed. Chiefly missing is a dramatically compelling motivation for the coach, staunchly played by Ed Harris, to take Radio under his wing. That he even needs a reason to make Radio an integral part of the team and incorporate him into school life is a cynical point.
Still, you keep wondering whether Coach is plain lonely. Having a wife and daughter he neglects, does he yearn for a son? The school principal expresses everyone's fear that Radio is just a glorified mascot. An explanation is eventually offered but it's not completely satisfying. Race and religion are downplayed, and it's a good bet both figured more prominently in real-life events. The movie argues that Coach is simply doing the right thing, engaging in everyday acts of charity and reaping altruism's rewards. Noble sentiments that don't translate into stirring cinema.
Certainly no one could resist this guy. Cuba Gooding Jr. projects a cuddly life force brimming with enthusiasm. The only one immune to Radio's charm is the only townsperson with a strong opinion about anything. During post-game meetings in the barbershop this lone disgruntled booster, whose son is a star athlete, complains that Radio is a distraction. Gooding's performance is nothing to be ashamed of but it's not Oscar material either. He's slack-jawed, with chipped, protruding teeth (courtesy of a prosthesis) and does this thing with his hands and fingers. At least his clothes aren't too small, like in most portrayals of the mentally or physically handicapped.
The music tells you what and when to feel but otherwise the ambling movie is too passive to be manipulative. While it ends on an emotional high (that surprisingly doesn't involve football), it doesn't tug shamelessly at your heartstrings. Too bad. Radio's story deserves to be told on a higher bandwidth.
(Released by Columbia Pictures and rated "PG" for mild language and thematic elements.)