The Key to Happiness
by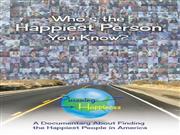 I canít stop thinking about Pursuing Happiness, an inspiring and eye-opening documentary concerning the secret to happiness. Although I seldom cry while watching a film, tears rolled down my cheeks more than once during my viewing of this unusual movie Ė even though most of the time I felt great joy because the real people on screen touched my heart and soul. Director Adam Shell -- and everyone involved in the project -- should be very proud of this documentary. Itís something special indeed.
Shell and his producer Nicholas Kraft (who worked together on two previous documentaries: Put the Camera on Me and Finding Kraftland) spent two years travelling throughout the United States interviewing 400 individuals who were nominated ďthe happiest person I knowĒ by project supporters. And what a group of remarkable people they present to us! Itís difficult to pick favorites, but three are highlights to me: Gloria Borges, a young lawyer diagnosed with stage four colon cancer; Randy, a garbage artist; and Richard M. Sherman, composer of many Disney songs, including the ones from Best Picture Oscar winner Mary Poppins.
Gloriaís positive attitude about her terminal disease, Randyís efforts to make Randyland a joyful experience for everyone; and Shermanís way of looking at life will stay with me for a very, very long time. As will the courage of an accomplished pianist who lost his hands and now helps his daughter with her piano studies. And there are so many more terrific real-life stories here that make us realize how important it is -- to ourselves and the people around us -- to make a decision about being happy regardless of our circumstances.
Pursuing Happiness also offers helpful insights from experts in the field of mindfulness, psychology, art, sociology, religion, and cultural studies. Itís interesting to note that this documentary brought Shell into contact with the worldwide happiness movement and that after successful screenings at several film festivals (which lead to an appearance for Shell at the United Nations and on The Today Show), the film is scheduled to open in select theatres on March 20, designated as International Happiness Day. Fortunately, the movie will be released on demand and streaming services throughout 2016.
Oh, Happiness! Pursuing you
is something I will always do.
But now Iíve seen a film so rare
and filled with folks who love to share
their happiness in many ways
despite their pain faced on most days.
Pursuing Happiness Ė the name
of this movie destined for fame.
Donít miss this chance to find the key
to Happiness. Itís a must-see.
(For more information about Pursuing Happiness, go to the official site at http://pursuinghappiness.com.)
Listen to my interview with Adam Shell by clicking here.