There Won't Be Any Coming Home
by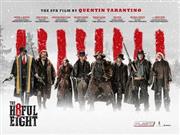 Quentin Tarantino cites John Carpenter's slime-heavy retool with Kurt Russell of The Thing and also his own first, Reservoir Dogs, as influential on his eighth, The Hateful Eight. "Stinking odors, filth, excrement, blood, mutilated bodies, agonizing shrieks," yes, but the former Video Archives store clerk has absorbed so many that it is not surprising that, though a closer fit, infinitely superior Key Largo is not mentioned.
Soaking up and dressing up what has already been done --- viz., Toshiya Fujita's 1973 and '74 Lady Snowblood 1 and 2, much better than cloned Kill Bill Vols. 1 and 2 -- the director writer has progressed, or regressed, from his startling once-innovative playing with time sequence and graphic hurt, carried so far now as to be self-defeating. Scenes do not gel into a whole, nor do characters compel; suspense is absent as "when" replaces "what," and early parody and irony have given way to out-and-out torture porn.
The Candieland finale of Django Unchained is mere bedtime tale against the post-Intermission OR of HE. Excepting a half-dozen Butterfield Overland Stage Co. horses, everybody but everybody gets shot two or three or four times, to have his/her head then blown apart at close range. Bloodied more than Sissy Spacek as Carrie, Jennifer Jason Leigh mugs mercilessly -- "never flinched because I had so much faith and trust in Kurt" -- as Daisy Domergue, for which she deserves being hanged with Russell's John Ruth's severed hand dangling; and in only two minutes on-screen wounded black Charly (Keith Jefferson) is hunted and red- splattered onto white snow by Joe Gage (Michael Madsen) instead of being left to freeze alone in the Colorado-standing-in-for-Wyoming cold. He is one of the luckier ones, for folks cannot even be poisoned and go quietly the old-fashioned way but must insist on vomiting rivers of blood.
Out of nowhere the director's voiceover explains the "secret" of one of the previous "Chapter" titles, this after the first two hours of all talk no action. Since that long stagey introduction of character and characters is unsurprisingly revealed as false, the film needs an "Earlier that morning" flashback to set the real situation and unravel the disguised rôles many characters have been playing, and why, though the people have not engaged us in the first place, anyway.
The late introduction of African-Americans at Minnie Mink's (Dana Gourrier) Haberdashery stagecoach way station connects with bounty hunter and sort-of-renegade former Union Army Major Marquis Warren (Samuel L. Jackson) and allows for a maybe untrue story-within-a-story of revenge on house guest ex-Confederate General Sandy Smithers (Bruce Dern). Warren is not to be believed -- no one is -- but is super cool and as astute as Hercule Poirot, while he and Minnie's crew occasion more N-words flung about than in all other pictures combined, ever. (If one is going to shock or be vulgar, it may as well be all the way; go for broke.)
Daisy is chained, and Ruth overrules her racism to allow the Major and his three reward-on-their-heads stiffs into and onto O.B. Jackson's (James Parks) stage bound for Red Rock in whiteout blizzard. The travelers are joined by Chris Mannix (Walton Goggins), son of a Confederate war hero, also alone on foot in the middle of Rocky Mountain winter nowhere, and claiming to be the new sheriff of that town. They get snowbound at Minnie's, the place peopled by an odd assortment of new, British hangman Pete/Oswaldo Mobray (Tim Roth, doing this time around's Dr. King Schultz), moody mama-loving book-writing cowpoke Gage, and Seńor Bob (Demian Bichir), manager in the owner's absence.
An Ennio Morricone score is jarring rather than Leone-esque. The over three hours is a self-indulgent Rube Goldberg cartoon in which the rescue, by several, of one single person from one other single person, hundreds of lonesome miles from anywhere, is complicated beyond belief. Shades of getting Broomhilda von Shaft away from white lust and corrupted blacks (Jackson, as Stephen) and so back to Django.
Peckinpah could do "beautiful bloodletting" while maybe giving it some meaning; Arthur Penn knew how to mix the rough stuff with tenderness and comedy; Tarantino needs to step it back but increasingly seems able only to ratchet it up.
(Released by The Weinstein Company and rated "R" for strong bloody violence, a scene of violent sexual content, language and some graphic nudity.)