Staying Alive
by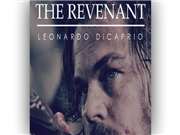 Back in the early 1820s, an angry bear attacked and mauled one of the members of a fur trading expedition. Thatís bad enough, but Hugh Glass faced even worse suffering after this tragic incident. Inspired by true events, The Revenant chronicles his struggle to survive overwhelming obstacles, including a deplorable betrayal.
The Revenant grabs onto you
and draws you in as few films do.
Intensity throbs to the max.
Watching this film you canít relax.
A bear attack seems very real.
When it happens, youíll have to squeal.
Thatís not all the hero goes through.
Heís left to die by friends untrue.
Survival is his major goal.
And Leo plays this crucial role --
a fur trader who wants to see
justice done, and so do we.
Everything works in this movie.
Cast and cinematography
deserve awards for their work share,
director too for his great care.
Staying alive, the filmís main theme,
propels the plot just like a beam.
We watch amazed at what we see,
hoping it ends in victory.
Although The Revenant tells a tale of violence and hardship, gorgeous vistas and cinematic artistry fill the screen -- thanks to Oscar-winning cinematographer Emmanuel Lubezki (Gravity). And a heavily-bearded Leonardo DiCaprio delivers his best performance ever as a man determined to stay alive no matter what gets placed in his way. With very little dialogue, the talented actor projects the incredible pain Glass feels as he tries to complete his treacherous journey. Plus, supporting actor Tom Hardy (Legend) makes our skin crawl as the villain mainly responsible for Glassí dire situation. Hardy gets better and better with each role he plays -- and heís definitely at the top of his game here.
Mournful background music by Bryce Dessner, Carston Nicolai, and Ryuichi Sakamoto helps set the movieís somber mood. Although director Alejandro Gonzάlez Iῆάrritu (Birdman) chose a pacing that might seem slow at times, itís just right for this movie. We actually need extra time to grasp whatís happening on screen and to feel right along with the main character -- who ends up being an unforgettable hero.
In times of tragedy, of war, of necessity, people do amazing things. The human capacity for survival and renewal is awesome. --- Isabel Allende
(Released by Twentieth Century Fox Film Corporation and rated ďRĒ for strong frontier combat and violence including gory images, a sexual assault, language and brief nudity.)
For more information about The Revenant, go to the IMDb or Rotten Tomatoes website.