Heartbreak Tango
by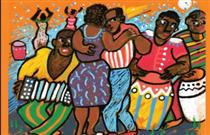 With introductory short Candombe, Tango Negro: The African Roots of Tango champions the surprise set forth in its subtitle, along the way showcasing a wide selection of professional and amateur performers, musicologists and ordinary-people dancers. With Argentine pianist-painter Juan Carlos Caceres singing and playing solo or with a group, conferring with other aficionados or commentating directly to live and this film audiences, the chockfull ninety-eight-minute feature makes its case that the Southern Cone has falsified and in effect whitewashed history.
Caceres died four months ago at his longtime home in Paris. It was in the cabarets of that City of Light that the supposedly sexy vulgar dance of apaches captured and spread through pre-World War I Europe and, spurred by Valentino in The Four Horsemen of the Apocalypse -- oddly not brought up, nor are Vernon and Irene Castle -- returned home to conquer its countries of birth.
Politicized in Tangos--The Exile of Gardel and Tango Bar, and dramatized by Saura in underappreciated Tango and by Robert Duvall in Assassination Tango, the slow ballroom dance in 2/4 or 4/4 time was long associated with working class Italian and Spanish male immigrants who frequented the arrabales brothels of the late nineteenth-century village of Buenos Aires.
As is reiterated, one is hard pressed to find a black face in present-day Argentina, although, especially in the short film, just across the border there are a surprising, surprisingly visible, hundred thousand Afro-Uruguayan descendants of slaves, about four percent of the population there. Aboriginal populations were never numerous, but the film notes that once-abundant slave and free black populations on both banks of the Río de la Plata were sacrificed as cannon fodder in Andean wars of independence. As throughout history and throughout the world, the masters then revised history, rewrote what had actually happened, appropriated what was deemed desirable and deprived minorities and the powerless of achievements, a past, a culture and legitimacy.
As in those many places, what could not be effaced, however, were memory and music. And so, the social fabric and percussive creative outlets, particularly those native to the sub-Saharan Kongo Kingdom, landed and took hold along the river. There, the rhythms and dances combined with other forms and sounds, the Pampas milonga verse, Afro-Cuban habañeras, folk melodies from Europe, African candombe drum parades (banned in Uruguay during the '80s military dictatorship), and concertina bandoneón.
Distinctively associated with Argentina, and distinctively white, the world-famous tango is here returned to its rightful place and shared roots. In Angolan director-writer Dom Pedro's TN:ART, the clarification and addition of African influence is not only a rectification of a historical injustice and appropriation, but an enrichment and appreciation long overdue.
(Released by ArtMattan Productions; not rated by MPAA.)