Light and Love
by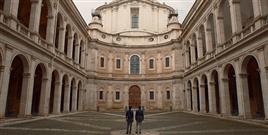 From Greek by way of Latin, sapience so rarely occurs in English that only a handful might relate it to the "wise" or "intelligent" of Homo sapiens. Meaning high "wisdom" or "knowledge," as also in Istanbul's holy or sainted Hagia Sophia, the film title La Sapienza comes directly from Rome's hexagonal Church of St. Yves at La Sapienza, Sant' Ivo della Sapienza. Writer/director Eugène Green's film U.S.-premières in the New York Film Festival.
Although a love-fiction crossed with documentary lecture and superb Raphael O'Byrne cinematography, it is as close as celluloid can approach to architecture; with effective unobtrusive score (early baroque master Claudio Monteverdi) and upwards-moving pans. More precisely, it is a paean to the theory, art and lasting structures of architecture.
First narrative sequences pit dismal utilitarian city planning against the freedom of nature- and human-oriented aesthetic design. Before this, however, slow opening sounds and sights of domes, swirls, statues, spires, bas-reliefs, cupolas, tawny façades, and green patches of trees set the stage for what is to follow and are by themselves worth the price of admission. This beginning and, an-hour-and-two-thirds later, the ending look to heaven but climb up there celebrating its union with earth through the ingenuity of man's monuments of unageing intellect and soul.
There are unhappy intrusions, like a "Chaldean" park-bench philosopher-seer (played by the director), a Medici Palace gathering, an obliquely dramatized suicide three hundred thirty-seven years ago, and even not-bad humor at the expense of a pushy Aussie. But center stage features two couples who school each other, the married adults imparting practical, sociological, linguistic and historical information, the younger siblings restoring spirit, hope, freedom and space to their elders.
A handsome couple, Alexandre and Aliénor Schmidt (Fabrizio Rongione, Christelle Prot Landman) are laconic automata, symmetrical in everything while in dead voices addressing the camera but never one another. He an acclaimed architect, she a social psychologist, they have suffered some tragedy which has stolen joie de vivre from their marriage and their work.
In disgust at city commissioners' reneging on contractual promises, Alexandre decides to take a break to finish a long-shelved study of influential seventeenth-century architect Francesco Borromini, baroque master of church and palace design that emphasized movement upwards within geometric enclosure. Husband and wife drive to the subject's birthplace in Ticino and then to Stresa, in whose lakeside park they notice Lavinia (Arianna Nostro) faint into the arms of her elder brother Goffredo (Ludovico Succio), and they offer to drive the siblings home. Shades of Poe's Madeline Usher, the neurasthenic blonde has suffered these spells since their father's death, has fallen behind in home studies, and, uncommonly close to the brother, is anxious about his imminent departure for university architecture studies.
Motherly but not entirely appreciated by the siblings' widowed mother (Irene Fittabile), Aliénor elects to stay behind and talk French and sense to the shut-in girl, while Alexandre continues on to research and write in Turin and Rome accompanied by, at her insistence, the younger man.
As the camera caresses the sites they visit, the husband talks theory and history to Goffredo while replying to the nineteen-year-old student's questions, which are not so naïve as might be, and responding to the boy's prodding and enthusiasm. Through their respective young companions, the dried-out married couple begin to recover from the past while yet rediscovering its lost joys and love. Their candle may reignite as they "find the light," like the one Goffredo burns at his bedside to dispel evil.
(Released by Kino Lorber; not rated by MPAA.)