Can This Marriage Be Saved?
by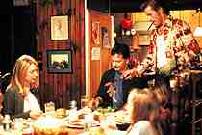 Marital bliss and dentistry don't mix. At least not for Dave and Dana Hurst in The Secret Lives of Dentists. They're a husband and wife trying to manage a dental practice together while raising three little girls. On the surface, everything looks fine -- until suspicion and jealousy push one of the partners into a world of hallucination and despair. Portraying these two frustrated individuals, Campbell Scott and Hope Davis reach deep within themselves, tapping emotions that help them deliver the best performances of their careers. An added bonus comes from stand-up comic Denis Leary, who portrays a disgruntled patient and alter ego for the husband. Leary's sarcastic rantings add welcome humor to director Alan Rudolph's unsettling drama.
The Secret Lives of Dentists emerges as a cross between Eyes Wide Shut and A Beautiful Mind, but I found it more compelling than either. Combining the paranoid behavior shown in the former with the mental aberration featured in the latter, this film adaptation of Jane Smiley's novella "The Age of Grief" might be too painful for some viewers -- so be forewarned. For example, I had a hard time with scenes showing an entire family ill with the flu. Watching Mom and Dad and their three children engage in extensive vomiting made me cringe in horror and sink down in my seat. I couldn't help wondering if this lengthy sequence was necessary. But, hey, "hurling" in any flick annoys me immensely. It's one of my pet peeves.
Still, the unpleasantness of that experience served to evoke more sympathy from me for David (Scott). Is he running for World's Greatest Dad? If so, he certainly gets my vote. Maybe he's a tad too doormatty, but Scott (Roger Dodger) endows the poor guy with a fatherly appeal, even when his youngest child slaps him continuously. Unfortunately, David has even more to contend with. He suspects Dana (Davis) of infidelity. In an exceptionally well-filmed provocative moment, David catches his wife enjoying an intimate exchange with a man whose back is to the camera, so neither he nor the audience knows his identity.
That incident sparks David's imagination. He begins to be suspicious of everything about Dana's behavior. Finally coming unglued, he starts discussing his situation with a man who isn't there. Leary's character materializes everywhere to give David advice. He's there in the car, at the dinner table, in the office. As a result, David's unassuming personality changes: he's transformed into a smaller, less colorful version of the Hulk.
With her porcelain beauty and cool demeanor, Davis (About Schmidt) projects a disturbing aloofness that's perfect for the role of Dana. It's easy to see how this woman could drive a man to distraction.
Because of its riveting depiction of how jealousy, everyday problems, and lack of communication can de-rail married couples, I'm adding The Secret Lives of Dentists to my list of highly recommended "cinematherapy" offerings. Like In the Bedroom, it's an important cinematic lesson concerning what not to do if you want to live happily ever after.
(Released by Manhattan Pictures/Holedigger Films and rated "R" for sexuality and language.)