Not Entertaining
by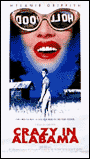 Besides being "movie greats," what do Martin Scorsese and Antonio Banderas have in common? Regrettably, each directed one of the most disappointing films released in the year 1999. Misguided pacing and awkward continuity plague both Scorsese's Bringing Out the Dead and Banderas' Crazy in Alabama. Because the latter is his first try at directing, I forgave Banderas. But there's no excuse for Scorsese, the man responsible for film classics like Raging Bull, Taxi Driver and Goodfellas prior to helming Bringing Out the Dead.
With so many stories available to film, why did these talented men choose such questionable projects? While Bringing Out the Dead realistically depicts one man's burnout as an emergency medical technician, it's too long on suffering by Nicolas Cage and too short on plot. Zooming through the mean streets of New York City with a vengeance, this whirling dervish of a movie slows down only for a couple of darkly humorous vignettes, such as when Cage desperately tries to get fired from his job.
In contrast, the sluggish Crazy in Alabama contains too many plots. It follows Lucille (Melanie Griffith), a glamorous woman who murders her controlling husband, carries his head around in a hatbox, and goes off to Hollywood to become an actress. Griffith (Banderas' wife in real life), so wonderful in Working Girl, comes across absolutely unreal as the flamboyant Lucille. Granted, that's probably a ridiculous role for any actress. This bizarre character talks to a severed head, for gosh sakes! Crazy in Alabama also tries to deal with the struggle for civil rights through the actions of Lucille's nephew played by Lucas Black. I hate to be so negative about this motion picture, mostly because I'm a fan of the charismatic Banderas as an actor and always look forward to his electrifying screen performances. Perhaps he should stick to acting.
Another real-life husband and wife (the then married Cage and Patricia Arquette) also appear in Bringing Out the Dead, and they're not in top form either. Arquette, a usually fine actress, plays the daughter of one of Cage's patients and seems to be reading her lines, while Cage is merely satisfactory -- instead of delivering a terrific performance to match his Oscar-winning role in Leaving Las Vegas. Fortunately, this depressing drama includes excellent work by supporting cast members Ving Rhames, John Goodman and Tom Sizemore as Cage's strange colleagues.
First and foremost for me, a movie must be entertaining. After that, it can be many other things – enlightening, inspiring, frightening, even life-altering. Although Bringing Out the Dead illuminates the challenges of a difficult occupation and Crazy in Alabama emphasizes the evils of racism and spousal abuse, neither emerges as a truly entertaining film.
(Bringing Out the Dead, released by Paramount Pictures, is rated "R" for strong language, gritty violence, and drug use. Crazy in Alabama, released by Columbia Pictures, is rated "PG-13" for some violence and strong language.)
For more information about these two films, go to the Internet Movie Data Base or Rotten Tomatoes website.