Lightning and Fire
by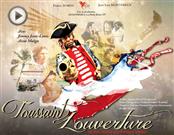 A two-episode --"Flight . . ." and "Battle of the Eagle"-- mini-series on French television, Philippe Niang's Toussaint Louverture appears bisected by an intermission at the 20th New York African Film Festival. One of four venues, Lincoln Center offered a plus in the appearance of Jimmy Jean-Louis.
The handsome lead remarked that the Haitian-French coproduction had to be filmed in Martinique because, two centuries after the uprising produced the New World's second republic and the entire world's first black one, Haiti still lacked infrastructure and cash to inspire producers' confidence for the sixty-seven-million-or-so-euro biopic. (For a decade now, Danny Glover has been trying to get together a parallel version.)
"Pretty much based on real facts," the story nevertheless had to be toned down, for certain scenes would not have been appropriate for the desired general audience. Thus, obligatory voodoo is short and generic bland, and despite place, period and circumstances, blood, revenge and savagery are diffused out. The Magic Island nation, after all, wants to present the world with a view of itself beyond poverty, oppression, superstition, misery and earthquake. Of his historical character, Jean-Louis said that, no matter the situation, the man always maintained his dignity. Back seat to whites Bolivar and Washington, his flame kept briefly aglow by England's Romantics -- "There's not a breathing of the common wind/That will forget thee"-- but eclipsed and forgotten, the former slave, freed man, plantation owner, brilliant general, uncompromising dreamer and betrayed martyr received his propers in applause from the Walter Reade Theater audience, mostly people of color with a sizeable number of Haitian immigrants.
Both François Dominique de Breda -- sobriquet L'Ouverture from his rapid military openings -- and the wife of his life are plaster saints, realized as human beings of flesh and blood only for a while early on. Suzanne (Aïssa Maïga) is voluptuous, saucy and her own woman in response to being eyed by equally sexy head slave Toussaint, the two of them wickedly winningly joking over her melons displayed in the marketplace.
Afterwards this strong lovely lady is degraded to standard helpmeet-of-the-great-man status. He greys handsomely but, the discreet camera implies, only perhaps shies from consummating other women's come-ons, as he turns into an otherworldly figure of hagiography on a par with other nations' (and films').
The story opens in a "present" near the 1803 end, after he and his loved ones have been tricked into captivity in post-revolution France and are separated, he in his fifties -- Jean-Louis thought him three decades older -- confined in conditions to break spirit and health in an unheated fortress cell in the snowy Jura. First Consul Bonaparte is convinced that, like any politician-ruler, his prisoner has amassed a treasure of sixty million in gold. General Cafarelli's (Féodor Atkine) iron-glove tactics having proved fruitless, young civilian Pasquier (Arthur Jugnot) is dispatched to write down Toussaint's memoirs, gain his confidence, and learn the location of the hidden war chest (the later revelation of whose contents is no cinema surprise).
Intercut with returns to this present, the history unfolds as the fallen but not bowed "most unhappy man of men" recounts it to the scribe who is a spy and the two men grow in respect for each other. The intricacies of other nations are complicated to those unfamiliar with them. This is no exception, as a welter of personalities is introduced, to remain onstage little or long and subsumed in the shifting priorities and leaders, loyalties and egos, of blacks, freedmen, Creoles who leave and return, and mulattoes; the mother country under the Directory, Robespierre and Napoleon, the Spain of Charles IV, imperial England and the new United States to the north.
Over it all is the former orphaned slave, Toussaint L'Ouverture, whose story is at least introduced and outlined in this unexceptional telefilm. Within the limitations to be expected as such, it is far from the worst of the overpopulated-biopic genre, a decent if long uneven watch when translated to the big screen.