Sisters under the Skin
by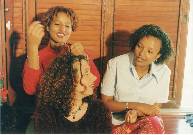 Too deliberately low-key to deserve a trite "powerful" description, film-and-TV director Dan Wolman's Foreign Sister, from his own script, is a realistic picture of dual crises that surely are almost everywhere. Many viewers may be surprised to find the first of these problems coming out of Israel, notoriously cast as a young, assertive and sabra-tough nation. But a moment's reflection is sufficient to realize that there, too, or anywhere for that matter -- and especially in success-driven societies -- the so-called midlife crisis must be common: what am I doing, where is my life going? And certainly the second of the film's twin themes, racism and the plight of (often illegal) immigrants, is of immediate relevance in this time of war, genocide, hunger and unprecedented dislocation.
Like that recent Tunisian small jewel, Satin Rouge, this film will initially appeal more to women, but as one is drawn into it, one sees that, although the two protagonists are women who encounter difficulties from a more subtle feminine angle, the condition is human.
After a brief opening in which obviously African immigrants are detained or sent scurrying by Tel Aviv police, we awaken at 5:30 am with Naomi Ehrlich (Tamar Yerushalmi). This fifty-year-old seemingly has the proverbial "everything." Living in a manicured community, she and her husband (Zvi Salton) have a roomy house and yard, good secure jobs and two handsome well-behaved teenagers whose problems are no weightier than school grades, clothing, hairstyles, a televised soccer match and a bar mitzvah party. Indeed, the only apparent challenge is caring for a difficult widowed mother-in-law (Miryam Nevo).
Meaningfully, but with a slightly heavy hand, we are soon shown that something is wrong, and getting worse. The family has sensed this for a while, and Naomi herself is aware that, as she tells daughter Noga (Neli Tagar), "I want to be Superwoman. If I had time, I wouldn't know what to do with it." The girl imitates a bored woman of leisure, and the two laugh, as they do when son Tom (Nir Ben zion) dies his hair, but the obsessive, unhappy wife-and-mother refuses her husband's advice to quit her bank job. She continues to trap herself in toil from morning alarm clock until bedtime ironing.
Each moment demands to be filled, and only grudgingly can she be cajoled into spending a weekend off by herself, "for us," at the Sheraton.
Meanwhile, this workaholic has become involved with another mother, charming young Negist (Asckala Markos), a black Christian whose three- and six-year-old children are back home in Ethiopia while she struggles to find work and money for their education. This braided woman, hired literally off the street to clean for the mother-in-law, is impressive in her unassuming dignity and honesty. Despite the economics-masked racism in that society, the older woman quietly enters the immigrant maid's milieu. She has braids set to her own wavy hair, sips strong alcoholic tala, is taught the basics of dancing at a club, and sees a small but not unrepresentative part of the marginal lives of the country's 300-400,000 "foreign workers." Sometimes people of talent and education in their homelands, they have been forced to Israel (or the U.S. or Western Europe) by economic pressures and are exploited and marginalized, socially as well as legally. Many are undocumented, some are caught and deported to maintain appearances and keep the rest fearful. Required state permissions are most readily available through bribes too expensive for people like Negist.
The two women – the older Israeli and the young African – communicate mostly in the lingua franca of English and in a natural, unforced way come to something like sisterhood. In grainy dark tones contrasting to the bright sunlight and color normally associated with the modern State of Israel, the film mirrors Naomi's coming to awareness of an existence outside her own. She opens her eyes to a world where people, in order to overhear what is said about them, refuse to admit they understand Hebrew. She sees a world of insecurity and fear, of small spontaneous joys and senseless violence. On the highway to Jerusalem, she, too, will commit an illegal act; uncommented on by the others and not underlined by the filmmaker, it is her bond to them, a badge of courage.
A near silent gesture on a Tel Aviv beach, a promise to meet over coffee – that is all. There are no facile assurances, and to her own family Naomi cannot give voice to what she feels. The lives of others may improve in small, individual ways. Naomi's own may, as well. We do not know for sure. But, by the end of this recommended film, we realize more fully than ever that our problems, self-created or otherwise, are not unique.
(Released by Dan Wolman Productions; not rated by MPAA.)