Leave 'Em Laughing
by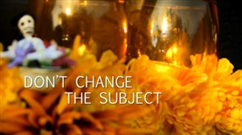 On the rise nationally, especially among young adults, for whom it is the third leading cause of death (and tenth overall), suicide is not a topic people want to hear about. A real conversation-killer, quipped writer/director/co-producer Mike Stutz while introducing Don't Change the Subject before accompanying it onto the college circuit, to mental health units and whoever else might take it. "It's an odd film, but then I'm an odd guy."
More than heterogeneous parts related through the concept of ending one's life unassisted, the non-fiction is unique in squarely facing a taboo subject and salting it with some serious humor. Along with Stutz' patter, there are a Duncan Trussell takeoff pitch for a company that for a price will do it for the customer and Ron Riegler's "Daddy's Last Video."
Into the mix go talking heads and interviews; old cassette recordings, stills and home movies; graveside visits, punk clowns, teen dancers rehearsing and performing on a theme of autopsies; a Mexican-like Day of Death remembrance, comedians' brainstorming and stand-up routines; animation and co-producer Charlie Recksieck's "Suicide Song" performed live by the Bigfellas. The total is a coming to terms, learning to live with, the self-inflicted death of those near and dear, an acknowledgement of their having passed this way. Most effectively in the words of those who tried but (sometimes miraculously) failed and lived to tell the tale, it would be a deterrent to despairing souls who contemplate the irreversible jump.
This non-fiction should be seen but, given cinema and television priorities, will not. Programmers are "scared to death" by the mere word suicide, while community help-lines are afraid DCS will give "the wrong message." "The wrong way," might be more accurate, for, like the ex-dance/-theater/-TV filmmaker, the ninety-seven minutes is by turns in-your-face, aggressive, painful, LOL, affirmative, nostalgic, supportive, sympathetic, tactless and surprisingly tactful.
This "altar to my mother" begins as a quest to remember, or reclaim, the vibrant actress-writer-wife-mother Sally who took an overdose -- he holds the very phial of Doriden -- three days before his twelfth, sixth-grade birthday. Stepmother Judith was so good that he and two siblings never had confronted the loss, just as others simply changed the subject, including Aunt Martha, a psychiatrist who wrote a professional paper about it.
Receiving boxes kept by his father of everything physical that remained of his mother, is a starting point. In California, he calls on sister Sara, to drive together to the memorial park gravesite, where they play 1975 tapes and consider mother's rational written plans for her own funeral.
Curiously, this sister is the only one who, along with "Yeah, what a waste," gives voice to survivors' resentment. Since people avoid the topic like the plague, those in the film have seldom analyzed, or verbalized and conceptualized, their reactions.
Specialized psychiatrists and scholars of religion are hard-pressed for definite causes or solutions, though it may be that they, too, have had suicides in their own families. Now dying of cancer, three days before her sixteenth birthday stepmother Judith had found the body of her father after he shot himself.
Names are difficult to catch but unimportant. A group of manic comics coming up with jokes about the topic will not be to everyone's taste, but few can fail to be moved when Stutz videos and directs two actor friends in a reenactment of finding the suicide, lying on his mother's actual red dress; played slightly differently, actor and actress then reverse rôles.
Equally upsetting are late interviews with (mostly female) subjects seen earlier. Considering her nearly fatal actions, not so much with repentance as relief, one young woman counsels desperate peers to recognize that low points of no way out are but momentary and that days', even hours', wait brings new light. In these, often against solid black backdrops, Stutz is subdued listener, a likeable shoulder to unburden on. And the unburdening is helpful, even successful, as the mother of twenty-eight-year-old Linda, having kept herself alive only for the sake of her other child, is at last able to complete a portrait of her daughter, symbolic of beauty and healing.
Listeners, remarks a psychiatrist, cluck sympathy for others' physical pain but shy away from or dismiss their psychic suffering. Humor in the film will offend some, but mixed with compassion it is a not ineffective method for confronting suicide, bringing it out into the open in service to the dead and the living.
(Released by Hoffenrich Productions; not rated by MPAA.)