Three-and-a-Half Sisters
by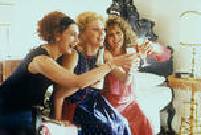 The Consulate General of the Netherlands explains that the untranslated title of that nation's entry for the 2002 Oscars is not easily rendered into English. Zus & Zo, the patient cultural affairs lady says, is a set phrase equivalent to our "so-and-so," but in this context meaning is extended through a pun, for zus is also "sister."
Although "the idea . . . is partly based on Chekov's Three Sisters," writer-director Paula van der Oest's charming production has little to do at heart with the Russian writer-physician's 1900 play. Simply, it tells of three busy, modern, mid-thirtyish sisters whose vaguely unsatisfactory lives are upset by unexpectedly received news.
Artist Wanda (Anneke Blok), magazine journalist Sonja (Monique Hendrickx), and socially conscious Michelle (Sylvia Poorta) learn about the marriage in three weeks' time of brother Nino (Jacob Derwig), now just shy of his thirty-third birthday. This brother, whom they dressed in girls' clothing as children, has been gay his entire adolescent and adult life and involved in a longtime love affair with Felix Delicious (Pieter Embrechts), now the country's premier TV chef. But by the terms of Father's will, should his only son marry an actual woman before this particular approaching birthday, he alone will inherit Hotel Paraíso, for years the family's property and personal vacation spa on the Portuguese coast.
Further, Nino intends to sell the impressive old mansion. His plan prompts each of the usually squabbling sisters to realize suddenly that she has seen the house and beachfront as somehow the solution to her own problems. Wanda envisions it as a unique art gallery, Sonja as an inspirational writer's retreat, and Michelle as a home for an extended family of orphans, foster children and refugees.
Still bickering, and at any cost, including even outing Nino or instructing the husband of one of them to seduce the bride-to-be, the three try to sabotage the wedding, which, as added insult, is to be solemnized at the hotel.
As various plots are developed and sputter against a backdrop of petty intrigues, personal dissatisfactions, misunderstandings, "missed connections," affaires and flings incestuous and otherwise, the sisters' and brother's already complicated lives turn even more tangled. Only the bride, free-spirited writer-critic Bo (Halina Reijn), seems above the internecine warfare and able to laugh at it (and them) all.
Sonja (and her tired-looking but ladies' man spouse) writes on themes like "What Do Women Really Want?" and Michelle insists, "Let's agree on one thing -- we won't lose Paraíso"; but the schemers don't know what they want and agree on nothing except disagreeing. The mess deepens, for lovers, spouses, dependents, friends and even the exhibit-going public are drawn in. Eventually, thanks to a drink too many, the Nino-Bo marriage of convenience itself is not so simple as the couple had thought.
Holland's interiors are stark ugly modern, not a warm retreat from the incessant rain. So it seems that, aided by sane, liberated Mother (Annet Nieuwenhuyzen), resolution awaits only in sunny Portugal -- prefigured throughout in old home videos of the happy family on its beaches and last glimpsed against phallic fireworks. End credits, however, flash against the Dutch clinic where at last all is settled, if a bit too neatly, and they are once again family, albeit changed and larger now.
I did have a time getting straight who's who, especially which name goes with which face. Perhaps the difficulty arises in subtitles, but in the end it does not matter or may even be part of the strategy. People themselves complicate life, and only people can un-complicate, when once they are able to accept, compromise and love. The learning process of authentic comedy chastises foibles rather than evil -- after sixty-two years, audiences still are uneasy with Tomania's Adenoid Hynkel.
With dialogue that runs quick and true, making use of seemingly throw-away gestures and sotto voces, van der Oest gently explores mistakes, but not crimes, as four siblings discover themselves and each other. So, too, do we understand ourselves and the complex web of our relationships.
(Released by RCV Film Distribution; not rated by MPAA.)