She Has To Be in Pictures
by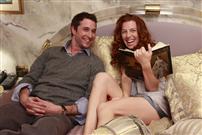 Queen of the Lot opens to an appropriate rendition of "You Oughta Be in Pictures" -- and ends up being a delightful treat for movie addicts like me. It stars the astonishing Tanna Frederick as Maggie Chase, a young woman from Iowa who, with every fiber of her being, wants to be famous. We first met Maggie in Hollywood Dreams when her name was Margie Chizek. A name change, of course, is necessary for someone so desperate for fame.
In this entertaining sequel, Maggie has already made three movies, but that's not enough for her. She wants to be "queen of the lot" just like Norma Shearer in days of yore -- or at least as popular as Angelina Jolie is today. Deftly directed by Henry Jaglom and co-written by Jaglom and Frederick, this wonderful character-driven film comes across as funny, touching and oh-so romantic.
Frederick (Irene in Time) softens Maggie's edges a bit here, making her more sympathetic. Yes, she's still a narcissist and impulsive most of the time. "I can't understand why I'm attracted to someone as superficial as you," says a new man in her life, played by Noah Wyle (Enough) in his best performance to date. But Frederick also endows Maggie with such sweetness and vulnerability that we can't help wanting her to succeed, just like Wyle's character can't help falling for her. It's great fun watching Frederick and Wyle together! They share some priceless scenes with each other, including a very amusing Google discussion. Their "opposites attract" banter reminds me of old-time movie couples like Tracy and Hepburn. And their onscreen chemistry is undeniable.
Mixing old Hollywood and current trends, Queen of the Lot follows Maggie's interactions with a longtime high-profile film family. She dates the already married megastar son (Christopher Rydell) of a legendary producer (Jack Heller), falls for the brother (Wyle) -- a cynical writer -- and develops a plan to save the showbiz family from financial ruin. In the meantime, Maggie must deal with members of the press who want to know about her ankle bracelet (for her last DUI), her rehab experience and her love life. But oh how she LOVES the publicity! No doubt Maggie hopes it might even increase her Google points.
A believable supporting cast -- including David Proval, Zack Norman, Peter Bogdanovich, Dennis Christopher, Kathryn Grant, Mary Crosby, Paul Sand, and Sabrina Jaglom -- adds to the quality of Queen of the Lot.
But it's Tanna Frederick who steals the show with her tour de force performance. Like Maggie, she has to be in pictures.
(Released by Rainbow Releasing and rated "R" for language and some sexual content. This film premieres in Los Angeles on November 19, 2010.)
PHOTO: Noah Wyle and Tanna Frederick in a scene from Queen of the Lot.
For more information about Queen of the Lot, go to the Internet Movie Data Base or Rotten Tomatoes website.