Through Pain Come the Loveliest Songs
by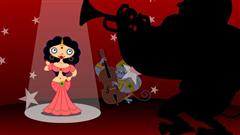 The technical details surrounding the creation and production of Sita Sings the Blues could fill pages, and, frankly, those pages have already been written, but they're worth summarizing because they're amazingly unique. Artist Nina Paley took five years to singlehandedly animate this 80-minute movie using her personal computers.
The animation styles -- at least, distinctly, five of them -- actually vary depending on which part of the criss-crossing narrative is being told, with the bulk of them created using Flash software. This makes the movie sound impressive enough, but to watch it is a whole other delightful experience; it's akin to watching creativity just explode onscreen -- part abstract, part musical, part improvisation-style comedy, and, most compellingly, all inspired by real-life pain.
One of the major reasons why Sita Sings the Blues can create such an impression on a viewer has less to do with its playful visuals than it does with its communication of shared, universal experiences and the call to generate empathy for them. Paley takes events from her real-life breakup with her husband and juxtaposes them with the classic Hindu epic Ramayana, particularly the episodes involving the relationship between the god-incarnate Rama and his wife, Sita. Centering on Sita, the movie focuses on her devotion to Rama, even as Rama treats her poorly toward the end of the tale (in a nice touch, three Indian shadow puppets recall the story through memory, giving it an anecdotal flavor). Meanwhile, much of their story is told through musical interludes where Sita sings about her emotions through the songs and voice of 1920's jazz singer Annette Hanshaw.
The combination of these elements creates a remarkable picture of the ecstasies and cruelties associated with feminine devotion throughout the ages, as Sita's story of righteous suffering, passed down via modern oral recounting, parallels the highs and lows of loving a man as sung about by Hanshaw, which all correlate with the emotional pain of Paley, whose husband becomes disinterested in her without warning. Sita Sings the Blues is a representation of art borne through pain -- art as therapy and recovery tool, as a way of working through loss, as a means to heal by sharing an experience.
As someone who disapproves of wallowing for the sake of wallowing, I love seeing this movie as evidence of what can be accomplished when one decides to create a work from ashes. Sita Sings the Blues is the female counterpart to (500) Days of Summer -- bad relationships leading to thoughtful, funny, creative art -- though Sita may be more impressive not just because it's mostly a one-woman show, but also due to its suggested scope: this is a movie for every woman across the centuries who has not only experienced the inexplicably torturous crush of devotional heartbreak but tenaciously survived it as well.
(Released by FilmKaravan; not rated by MPAA.)
Review also posted at www.windowtothemovies.com.