Sometimes Less Is More
by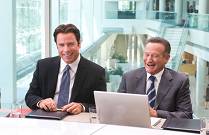 John Travolta and Robin Williams ham it up in Old Dogs, a screamingly bad comedy about two longtime pals who are not only best friends but also business partners. When Williams' character finds out he's the father of seven-year-old twins, both unmarried friends come unglued at the challenge of taking care of these youngsters while their mother has to leave them for a short time. A silly script and over-the-top performances by the entire cast -- which also includes Kelly Preston, Rita Wilson and Seth Green -- make it hard to sit through Old Dogs without squirming in your seat most of the time.
As someone who has admired Travolta (Hairspray) and Williams (Noel) in many of their films, I take no pleasure in panning their work here. They are fine actors/performers who bring exceptional talent to the table. But Old Dogs requires so much unbelievable juvenile behavior from their characters, it's painful to watch as they try to bring these men to life and evoke laughter at the ridiculous things they're required to do. For example, their clueless antics during a "camping" sequence caused groans instead of laughs at the screening I attended. Only one situation emerges as truly funny to me in Old Dogs. When the twins (the very cute Ella Blue Travolta and Conner Rayburn) accidentally mix up their father's prescription drugs, amusing depth perception problems result -- aided by special effects, of course.
Playing a single mother who needs help, Preston (so great in What a Girl Wants) seems way too bubbly in her interpretation of this role. The usually wonderful Wilson (Raise Your Voice), portraying a hand model who suffers at the hands of one of the main characters, appears in only a couple of scenes and -- uncharacteristically -- overacts in each one. Green (Scott Evil in the Austin Powers flicks), as an incompetent employee, adds little humor to the movie, but I do have to admit smiling at his gorilla serenade.
While applauding the emphasis in Old Dogs on the importance of family over business as well as its theme about never being too late to be a good father, I can't help feeling disappointed at the failure of this film as a comedy. Although the script may be most at fault, Travolta and Williams have been around long enough to know that when doing comedy, sometimes "less is more."
(Released by Walt Disney Studios Pictures and rated "PG" for some mild rude humor.)
For more information about Old Dogs, go to the Internet Movie Data Base or Rotten Tomatoes website.