Heartfelt but Not Clichť
by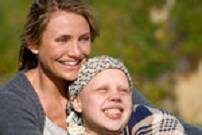 From front page news to the big screen comes the plot for My Sisterís Keeper, a melodrama based on the book by Jodi Picoult. The story concerns a couple who genetically engineer a baby to help save the life of their daughter dying from cancer. Naturally, the movie is a roller coaster of emotions, but director Nick Cassavetes (John Q) keeps the film churning with some clever ideas and steers his actors onto solid ground.
Since being conceived in vitro by her parents Sara and Brian (Cameron Diaz and Jason Patric), Anna (Abigail Breslin) has been a DNA match for her sister Kateís (Sofia Vassilieva) worn out parts -- starting even before she was born. About to be asked to donate a kidney, the more-than-mature 10-year-old Anna, has had enough. No longer wanting to be a guinea pig, she hires TV attorney Campbell Alexander (Alec Baldwin) to sue her parents for medical emancipation.
Sara is appalled when Anna turns against her sister knowing it means Kate will surely die. Whatís really interesting here is that the sistersí relationship doesnít waver. Kate seems okay with her sisterís decision, and Anna is as nurturing as ever of Kate. Breslin plays Anna as almost a split personality. The two siblings spend time together, laughing, crying, and making sure they will never forget each other.
Vassilieva (Day Zero), who has mostly starred in TV roles, delivers an exceptional performance in My Sisterís Keeper. While itís natural for an audience to feel the tug of symphony for her character, Vassilieva endows Kate with hope, bravery and optimism. During the entire film, itís those traits that shine through in this sweet, smiling character.
While Sara is so angry she battles Anna in court about her decision, Brian sees the price his young daughter has paid for the decision he and Sara made long ago. Budding up to Anna only widens the rift in the family as they face days of pain and lost hope. Patric (In the Valley of Elah) also deserves acclaim for his work here. As Brian, heís patient, insightful and proactive. And Cameron Diaz provides one of the best performances of her career in the difficult role of Sara.
The girlsí brother Jesse (Evan Ellingson) has a mysterious reaction to his sistersí ordeals. He hangs out around dark street corners in town, and itís not clear why until much later in the film. Ellingson (Letters from Iwo Jima) handles the intrigue well. Taylor, a fellow patient and Kateís romantic interest, is played perfectly by Thomas Dekker (TVís Terminator: The Sarah Connor Chronicles). Although Baldwin is amusing as Annaís attorney, he never plays the role over the top as one might expect.
Members of the Fitzgerald family face several battles, and each one must make his/her own decision on what path to follow. The audience goes along for this ride, which includes tender moments as well as vivid revelations of what this killer disease is like.
The soundtrack of original music by Aaron Zigman (The Proposal) sets many of the wavering moods perfectly throughout the film. My Sisterís Keeper should be enjoyed most by moviegoers who can look beyond the obvious.
(Released by Warner Bros. Pictures and rated ďPG-13Ē for mature thematic content, some disturbing images, sensuality, language and brief teen drinking.)
Review also posted at www.reviewexpress.com .