Remembering Jeremy
by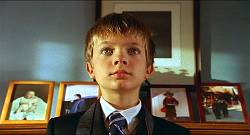 Taking pictures at a wake might not seem appropriate, but ten-year-old Nicky thinks otherwise in Wake, a heart-tugging and memorable short film written and directed by Andrew Lawton. Nicky's older brother Jeremy has been killed in the Middle East, and even though he was a photographer, the people attending his wake can't help being surprised by Nicky's unusual actions.
"Everyone is here," the youngster explains. That answer fails to convince Father Dan (Stephen C. Bradbury, gently self-righteous in this role), who insists the picture-taking stop. "Not on this day," he says. However, Nicky persists. As he goes about his business, we see flashbacks of Jeremy with the individuals in Nicky's pictures, and we begin to understand why this pre-teen boy is so determined to remember his brother in this special way.
Wake took me completely by surprise. It's a short independent film, only 28 minutes long, and yet it touched me more deeply than most big budget mainstream dramas. Although everything works -- acting, script, cinematography, pacing, music, etc. -- it's Christopher Kutil's unforgettable portrayal of Nicky that wowed me the most. He's a real find! Making his acting debut here, Chris comes across as extremely photogenic and genuine. I definitely want to see him in more movies.
"We knew that Chris had the perfect look but we were cautious because he had absolutely no acting experience," Lawton (Rain) told Phil Hall in an interview for Film Threat. "So we put him in an audition room with a group of professional new York City actor kids just to see what would happen. He ended up surviving through the three-hour callback and by then our minds were made up. He was connecting emotionally to the material but just refused to force anything for the camera. It was amazing to watch!"
Both Anne James (Flatliner) and Wayne Maugans (Johnny Suede), who play the estranged parents, also deserve kudos. Using very few words, they make us feel the pain of a mother and father trying to get through one of the most difficult days of their lives. And handsome newcomer Jimmi Kilduff, who shows considerable leading-man potential, does a great job as Jeremy in the flashback sequences.
It's not easy dealing with grief, especially when we lose a loved one. The only film I can think of that handles this subject with as much honesty as Wake is Brad Silberling's Moonlight Mile, starring Dustin Hoffman and Susan Sarandon. But Wake also emphasizes the sacred nature of photographs and how important they are in the healing process. That's an amazing accomplishment for a movie with a running time under thirty minutes.
For more information about Wake, please click here.
(Released by Pier's End Productions; not rated by MPAA.)