What Happened Next?
by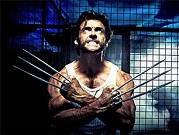 When X-Men Origins: Wolverine ended, I whispered to my husband, "And then what happened?" -- which proves this movie definitely had me hooked and eager for another chapter of Wolverine's history. Granted, I'm an avid Hugh Jackman fan more than an X-Men groupie, and Origins boasts lots of great sequences showing Jackman in all his glory. But it also excels in character and story development, especially during the first part of the film.
Jackman takes full opportunity to display his considerable animal magnetism again as Logan, a mutant with retractable claws that appear under times of great stress, who first came to U.S. moviegoers' attention in the original X-Men film. He also gets a chance to show Logan's tender side -- before becoming the indestructible Wolverine -- in lovely scenes with Lynn Collins (Bug). And Jackman impresses as a sibling outraged by the actions of his older brother, Victor, played by Liev Schrieber (The Omen) in his most intense film performance to date.
Tracing Logan's history back though time, this exciting prequel presents a montage of the many wars he and his brother took part in. Finally, Logan becomes disgusted with all the carnage and walks away from it, which doesn't sit well with Victor nor with William Stryker (Danny Huston, almost as menacing here as in 30 Days of Night), a military commander experimenting with mutants as soldiers. After settling down for a long peaceful life with Kayla (Collins), an act of horrific violence sends our hero on a mission of revenge. In the process, he undergoes replacement of his body structure with a powerful metal -- and voila! -- deadly new claws materialize right before our eyes.
SPOILER ALERT
How Logan assumes the name of "Wolverine" and deals with his brother plus the ambitious Stryker forms the second part of the film. Action galore kicks in, and Jackman seems up for it indeed. His work-out sessions certainly paid off -- as shown in Wolverine's many violent battles with his enemies, especially with the strong and tenacious Victor.
It's important to remember that Wolverine started out in the X-Men series with amnesia, and Origins explains why. We also meet a few other remarkable mutants. My favorites? Wade Wilson/Deadpool (Ryan Reynolds) and Remy LeBeau/ Gambit (Taylor Kitsch). Bringing super energy to their work here, both Reynolds (Definitely Maybe) and Kitsch (The Covenant) are great fun to watch. However, I wish more visual attention had been given to Reynolds' transformed character during the last part of the film. As is, only his eyes give him away
X-Men Origins: Wolverine emerges as a high-powered revenge movie, and that theme almost always works for me (even though I'm a pacifist -- go figure). My only complaint? It isn't a musical. Don't laugh. I hear Jackman was great in the stage production of Beauty and the Beast.
(Released by 20th Century Fox and rated "PG-13" for intense sequences of action and violence, and some partial nudity.)
For more information about this film, please go to the Internet Movie Data Base or Rotten Tomatoes website.