In the Beginning
by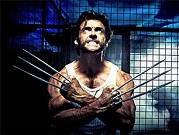 X Men Origins: Wolverine, the first big blockbuster of the year, has hit theaters and is receiving reviews ranging from marvelous to horrible. As a writer, I like stories with a beginning, middle and end, so this prequel to the X-Men series appealed to me. And most women with good eyesight and kind hearts agree it's no problem watching the sensational Hugh Jackman -- sporting abs of steel -- for almost two hours.
The opening sequence shows Logan (Jackman) and his brother Victor (Liev Schreiber), aka Sabertooth, in one historical war scene after another. Not just in one war, but in almost every one from the Civil War to Vietnam. Of course this is only possible since they are mutants; someone who, through genetic mutation, has super-powers representing a higher stage of evolution.
Because Logan and Victor belong to a Special Forces unit of the U. S. Government, they're up for unusual assignments. After certain events transpire under commander William Stryker (Danny Huston), Logan feels the assignments are moving in a direction he's not comfortable completing. Therefore, he leaves the unit and takes up residence in a small Canadian town, finds work as a lumberjack and falls in love with Kalya (Lynn Collins). She knows all about who Logan really is and becomes the one to calm him down and make his claws retract when he gets angered. She also reveals to him an ancient tale concerning the moon losing its lover and about the name Wolverine; which Logan eventually adopts as his own.
SPOILER ALERT
When his angry and revengeful brother kills Kayla, Logan returns to the world of the X-Men to unleash his own revenge on Victor. That's where the story takes us into the X-Men's world where experiments headed by Stryker leave no one safe, and ultimately Logan's mind is erased of any memory about who he really is.
After talking about X-Men Origins: Wolverine on my radio show, I came to realize that true X-Men fans are not thrilled with this prequel. I heard complaints about distorting the X-Men and making situations that have already appeared in X-Men (2000), X-2 (2003) and X-Men The Last Stand (2006) obscure.
Putting the task of such an arduous undertaking as the creation of a beginning to an already super successful franchise in the hands of screenwriters David Benioff and Skip Woods was, to say the least, courageous. Yet the mix of Benioff's talents displayed in The Kite Runner and 25th Hour and Woods' skills seen in Hitman and Swordfish seem to blend all the extreme elements in Origin's story well.
Rather than return to past X-Men directors such as Brett Ratner or Bryan Singer, Gavin Hood was chosen as director. After watching Hood's penetrating drama Tsotsi, Jackman perceived Hood as the person for the job.
"The character Tsotsi was at war with himself, just like Wolverine is," Jackman said. "I got carried away by Tsotsi's journey, and by Gavin's instincts for character and story. The characters have always been at the heart of the X-Men comics and movies. People connect with and relate to them."
Although more enthralled with the first half of X Men Origins: Wolverine, by the time the X-Men and the exciting powers of characters such as Deadpool (Ryan Reynolds), The Blob (Kevin Durand), Gambit (Taylor Kitsch) and Bolt (Dominic Monaghan) were full screen, I was on board. I'm now anxious to see the sequels once again.
The excitement of X Men Origins: Wolverine is partly due to the amazing performances of Schreiber and Jackman. Schreiber nails Victor's savagery in Origins with the same intensity he brought to his role as Zus in Defiance.
"Victor is incredibly brutal and has a bloodlust unlike any character I've ever played," Schreiber said. "This guy is a real killer."
Jackman, clearly the pulse of this franchise, enjoyed taking part in the producing process of the film as well.
"I had more fun playing Wolverine in this film than ever before," Jackman said. "With the previous X-Men films, I never had Logan looking exactly as I wanted him to look. For this one, I wanted Logan to look animalistic, veins popping out, and coiled like a spring. I wanted audiences to say, 'Okay, this guy is frightening; this guy could easily rip someone's head off.'"
I'm not sure I enjoy watching Jackman rip people's heads off, however X Men Origins: Wolverine will probably claw its way to the top of box office for weeks to come.
(Released by 20th Century Fox and rated "PG-13" for intense sequences of action and violence, and some partial nudity.)
Review also posted at www.reviewexpress.com.