Twists and Turns
by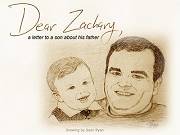 More compelling and suspenseful than most recent thrillers, a documentary by Kurt Kuenne ends up being one of the best films of 2008. Dear Zachary: A Letter to a Son about His Father tells the almost unbelievable true story of what happened after Dr. Andrew Bagby, Kuenne's best friend, was murdered by his pregnant ex-girlfriend.
Watching this documentary evokes strong feelings of anger toward the culprit and the justice system involved, but this reaction takes second place to enormous admiration for Andrew's parents, whose remarkable dedication and perseverance earn them a place in my pantheon of real-life heroes.
When filmmaker Kuenne learned about Andrew's unborn son, he began making a movie to show the boy (later named Zachary) as much information as possible about his father. After Zachary's mother and accused murderer, Dr. Shirley Turner (who fled to Canada) was released on bail and gained custody of Zachary, Andrew's parents began their desperate efforts to win custody away from her. What these courageous grandparents went through borders on extremely cruel and unusual punishment! Thinking about their unfair/unreasonable treatment by the Canadian authorities still makes my blood boil. But here's where Kuenne's documentary takes another twist and turn. And it's a doozie.
I'm not surprised that Dear Zachary caused such a stir at the Slamdance Film Festival and went on to win numerous awards, including the Cinequest Audience Award as well as selection as a Top Ten Audience Favorite at HotDocs. Weaving together poignant interviews, relevant home movies and his own caring narration, Kuenne has created an emotional roller-coaster of a movie, one that touches your heart and brings you to tears in some scenes, then enrages you in others.
It's entirely fitting that proceeds from Dear Zachary go to benefit the Dr. Bagby Scholarship and the Dr. Andrew Bagby and Son Zachary Bursary. Keeping alive the memory of what happened in this case and doing so in a positive way is a worthy goal indeed.
Click here for additional information about Kuenne's spellbinding documentary. And to find out more about the shocking story of Andrew Bagby's murder, read Dance with the Devil: A Memoir of Murder and Loss by David Bagby, Andrew's father and Zachary's grandfather.
(Released by Oscilloscope Laboratories; not rated by MPAA.)