Middle East Muddle
by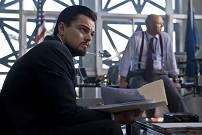 It's not easy being a spy, especially during the War on Terror. In Body of Lies, a CIA covert operative assigned to the Middle East lives dangerously as he faces the possibility of betrayal and exposure, which would undoubtedly result in torture or death. Working under the direction of an impatient boss -- who gives him orders via cell phone from Langley -- our hero's mission involves trying to discover terrorists engaged in bombing and killing innocent people. A timely, compelling film idea, right? Unfortunately, Body of Lies ends up being a mostly chaotic movie featuring lead characters it's hard to care about.
Although Leonardo DiCaprio and Russell Crowe are fine actors, their performances here (as the field spy and his handler) fail to match their brilliant work in The Departed and 3:10 to Yuma, respectively. DiCaprio's intense portrayal of an undercover policeman, who worries constantly about the danger of exposure, evoked the greatest suspense in the former film, and Crowe was absolutely spellbinding in the latter movie as an enigmatic bad guy with a streak of goodness in him.
What a difference deeper character development makes to the finished product! Body of Lies tosses these two guys into the middle of a confusing story and expects us to warm up to their characters without offering any background information. DiCaprio, as the Middle East man on the ground, spends most of his time running from one situation to another like someone high on drugs; Crowe, who gained about 50 pounds for the role of DiCaprio's boss, can't seem to find his groove this time out, perhaps because most of his scenes involve phone conversations or staring at huge satellite projections of what's happening to his underling. No wonder interactions by DiCaprio and Crowe fall flat in this disappointing spy-thriller.
Making matters worse, DiCaprio's character decides on a course of action mid-way through the movie that runs counter to his preferred method of operation -- and this almost ruined the rest of the film for me. I say "almost" because Mark Strong (Miss Pettigrew Lives for a Day) captured my attention right away and held it in every one of his scenes. Suave, soft-spoken and sophisticated, this talented British actor excels as the clever head of Jordan's intelligence service.
Also, beautiful Iranian actress Golshifteh Faranhi is a joy to watch in the role of a nurse who becomes DiCaprio's love interest. She's quite convincing while showing how her character's curiosity about the American patient she's treating turns to love.
Directed by Black Hawk Down's Ridley Scott -- from William Monahan's (The Departed) adaptation of a novel by David Ignatius -- Body of Lies focuses on the complicated nature of our involvement in the Middle East and of trust when engaged in fighting terrorism. But we already knew that, didn't we?
(Released by Warner Bros. Pictures and rated "R' for strong violence including some torture and for language throughout.)