Dr. Ravi Goes on Trial
by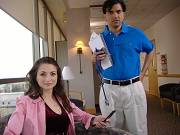 Heís baaaack! Fortunately for Dr. Ravi Godseís fans, his second film, Iím a Schizophrenic and So Am I, boasts the same charming qualities found in Dr. Ravi & Mr. Hyde, his impressive debut film as a director, screenwriter, producer and star.
This unusual courtroom drama features Dr. Raviís wonderful self-deprecating humor and unique outlook on the world around him. Appearing again as the likeable main character, a physician who meanders and bumbles his way through life, Dr. Ravi faces something more serious than making a film this time. In Iím a Schizophrenic and So Am I, heís on trial for negligence involving a patient who allegedly commits suicide right after her appointment with him.
Suspense builds throughout the movie as Dr. Ravi begins to doubt his own sanity.
Why is he hearing voices?
Was he really negligent?
Did the patient jump or was she pushed to her death?
Is the good doctor being framed?
If so, who would want to frame him?
If the woman was murdered, who could have done it and why?
With the help of a droll, open-minded detective and an extremely overconfident lawyer, Dr. Ravi finally solves the case. But not before weíre treated to some humorous courtroom hijinks, clever plot twists and philosophical musings by our hero as he speaks directly to the camera. Eat your heart out, Woody Allen -- and Perry Mason, too!
(For more information about Iím a Schizophrenic and So Am I, visit the official site by clicking here.)