Unhappy in Its Own Way
by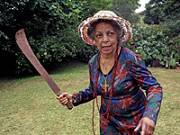 For his novice dip at directing, Toa Fraser spent close to four years adapting his one-woman stage play, No.2. With deepened emotion for the screen -- partly because "my grandmother [and] biggest supporter" died during that gestation -- Naming Number Two was expanded and then tightened "back to a simple structure . . . based on some old-fashioned principles like unity of time and space." As with many a first attempt, it is no surprise how personal the vision is, from a man born in England to a British-Fijian couple, dreaming of his far-scattered South Pacific relatives, and now resident in Auckland for eighteen years.
Despite, however, twelve New Zealand Screen Awards nominations -- the four wins were for acting and original music -- and a 2006 Sundance Audience Choice Award, the film will probably mostly appeal to mature ladies, women with grown children and grandkids. For this is a story about reestablishing family ties and love, about the need for tradition and the strength of women of tradition.
There is nothing undoable on-screen about the Aristotelian unities, so this long day's journey into love and death and continuity is not a hurdle in itself. But this version comes across static, going off for a few scenes here or there but quickly coming back to the center in the yard of Nanna Maria's (Ruby Dee) middle-class house, street-number two on the block. The half-dozen excursions away from there add nothing except a reinforcing sense of "the most boringest place in the whole wide world," a suburbia not unlike some of ours, with hills and filled with young folks loading six-packs into pickups, driving recklessly in showy cars, arguing after fender benders.
Belying Down Under's reputation for racism and ill-treatment of aboriginals, the racially diverse cast is refreshing. It would seem that actors for Maria's rainbow family, everybody and his uncle friends and neighbors -- some extras are the director/writer's cousins -- were picked with disregard for skin color and features, on down to white-looking favorite grandson Tyson (Xavier Horan, in his screen début). Aside from an Asian sister and brother (Michele Ang and Andy Wong, as Grace and Peter), two parts had to be reserved for strict Caucasians (who, as outsiders, can initially be not invited), cousin Hibiscus' (Mariama McDowell) beau Shelley (Anthony Starr) and the major rôle of Tyson's main squeeze Danish Maria (Swedish actress Tuva Novotny).
A photo of dead husband Joseph at bedside, octogenarian Nanna Maria wakes from dreams of a family wedding when she was a child in her native Fiji and demands a similar do that same day, with music and laughter, drinking and, with luck, some old-time fighting. Her three children, estranged over her care and the inheritance of the house, are pointedly not to attend. But a confusing load of grandchildren and stray cousins are ordered to be there, including burly eldest grandson Erasmus (Rene Naufahu), who apparently lives in a camper in the toy- and junk-strewn yard, and responsible loving Charlene (Mia Blake), who lives in the house with her young son (Brandon Laksman), and Soul (Taungaroa Emile), whose license plate and gold neck-pendant read RASKIL.
SPOILER ALERT
Playboyish Tyson does not want to come, but, curious about his family, Danish Maria insists they stop by on their way to the beach before her return flight to Europe. The two Marias hit it off over considerable drinks, and, with a few prodding sulks by the matriarch, the feast will take place, with music and singing and dancing, drinking, feuding and fighting and making up, and a door too long boarded against ghost-spirits will be torn open and a soul freed to ascend via soupy zoom out.
It is difficult to know exactly which of the so many family members is which, and what the relationships are, but such genealogical exactitude is not terribly important. Nanna Maria uses the banquet to anoint her chosen successor, perhaps the real Number Two named in the title, and the fact that it should have been Charlene, and is not, is not disastrous. On the other hand, a lot of flat, or over-emotive acting does not help, nor does the wise, winking simper Novotny is asked to assume from start to finish.
There is food for old-fashioned thought in Naming Number Two, but staginess in conception and acting, bad pacing, and triteness are together too much to overcome. Even the feel-good never comes off.
(Released by Cyan Pictures and rated "PG" for thematic material, language, sensuality, brief violence and smoking.)