Gently Spoofing Fairytales
by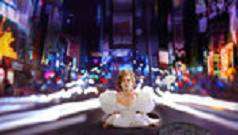 The spoofing of animated fairytales continues apace, and the latest example, Enchanted, comes from the studio that built its reputation on the supple yet sturdy backs of princesses destined to live happily ever. Many filmmaking outfits have taken shots at Disney's cartoon canon, so it was only a matter of time before Disney took direct aim at resident icons such as Cinderella and Snow White.
That this musical is only mildly self-deprecating and upholds the ideal of storybook romance is unsurprising. No one could expect anything truly subversive. But Disney deserves credit for half-pretending to undermine its foundational material and not just transpose it to the sea (The Little Mermaid) or onto non-white cultures (Pocahontas).
Enchanted is a crowd-pleasing, relatively high-concept instance of having it both ways. When irony-free fantasy and cynical modern reality meet, it's possible for "Sleeping Beauty" to awaken unscathed and family audiences to climb into the minivan satisfied.
More than the green-lighting executives or the talent behind the camera and computer mouse, we have fetching Amy Adams to thank. She gives a winsomely energetic performance as the live-action version of maiden Giselle, met in the opening number singing the tongue-in-cheek love duet "True Love's Kiss" with the prince of her dreams. Having just set eyes upon one another in the animated kingdom of Andalasia, they're on the fast track to wedded bliss.
The wicked Queen Narissa (Susan Sarandon), who will lose the throne if the marriage happens, has other ideas. She shoves Giselle down a wishing well that leads to Manhattan's Times Square. Giselle emerges from a manhole into the live-action world of contemporary New York and soon falls head-over-glass-slippers for a divorce lawyer named Robert (Patrick Dempsey from Grey's Anatomy).
Robert's six-year-old daughter is a pushover, naturally, and Giselle's wide-eyed innocence, red hair and milky-white skin conquers him quickly enough. Obstacles to their happiness include Robert's serious girlfriend (Idina Menzel), Giselle's chivalrous cartoon prince (James Marsden) who gives chase, and Narissa's vassal Nathaniel (Timothy Spall), who turns up bearing poison apples for Giselle's delectation.
Ever the shrewd marketers, the folks at Disney know that fish-out-of-water humor is universally appealing, provided it's not overdone. Equally safe bets: young girls will gravitate toward anyone in a princess costume and their moms won't be able to resist Dr. McDreamy's sexy locks and unthreatening demeanor. Director Kevin Lima and crew even consider little brothers and action-seeking males by throwing in a dragon sequence.
Disney wrote the book on anthropomorphism and using animals to entertain. Giselle's chipmunk Pip is hilarious and the movie really kicks into gear during the scene in which she recruits local wildlife -- pigeons, rats, flies and roaches -- to help tidy Robert's Manhattan apartment. If the big number in Central Park suggests "High School Musical 3" or a Main Street parade, it's still infectiously goofy. There are ample witty lyrics and lines ("Thank you for taking care of my bride, peasants!") and the live-action and animation are nicely interwoven.
Not every dream comes true, even inside Walt's "Magic Kingdom." Yet you leave Enchanted convinced most will if a romantic heroine as sweet as Giselle is involved, and if she's portrayed with the giddy aplomb Amy Adams brings. On the flip side, while fairytales are timeless and meant to endure forever, it's hard to imagine how much more mileage can be gotten out of princess brides. No doubt, filmmakers are already trying, both inside and outside Disney's castle walls.
(Released by Walt Disney Pictures and rated "PG" for some scary images and mild innuendo.)