That's Entertainment!
by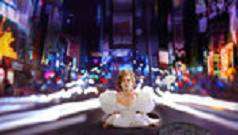 With its buoyant combination of romance, music and fun, Enchanted emerges as one of the most entertaining films of the year. This amusing Disney fantasy melds live action and animation to tell the story of a fairytale princess banished by an evil queen into the real world of New York City. Tongue-in-cheek at every turn, the movie parodies old favorites like Snow White, Cinderella and Sleeping Beauty -- then ends up with its own clever version of "happily ever after."
In an opening animation sequence reminiscent of so many Disney films, Giselle (Amy Adams) is playing and singing with her forest friends when all of a sudden, a giant ogre bursts into the party and tries to eat the lovely maiden. Naturally, a handsome prince (James Marsden) saves her. After Prince Edward and Giselle sing about "true love's kiss" to each other, Edward whisks our heroine away to marry him at the castle. But Queen Narissa (Susan Sarandon), his evil stepmother, has other plans. Using her magic powers, she banishes Giselle to a place "where there's no such thing as happily ever after." That's modern-day Manhattan, of course.
Giselle soon finds herself transported to a strange new environment. She's not in Andalasia anymore, so the movie changes from animation to live action and becomes primarily a fish-out-of-water tale. Playing a real-life woman now, Adams (Junebug) shows off her tremendous talent for comedy. Her looks of amazement and confusion about what's happening around her are absolutely priceless! When a cynical lawyer (Patrick Dempsey) and his darling little daughter (Rachel Covey) take Giselle in for the night, Adams projects an appealing innocence that makes her character even more endearing. But it also causes us to wonder if Giselle's storybook ideas about love and romance can survive in today's world. Will Giselle change -- or will the people around her start to look at things in a different way? Is her friendship with the McDreamyish lawyer becoming something more serious?
Soon Prince Edward, his devious servant (Timothy Spall), and a loyal chipmunk (voiced by director Kevin Lima) also arrive in New York, all concerned about their missing almost-princess. It's a treat to watch the no-longer animated James Marsden here. He puts such energy into this comic performance, especially when his character searches the streets of Manhattan for his one true love. I'm happy Marsden is finally coming into his own with fine work like this plus his terrific turn as the enthusiastic TV show host in Hairspray.
Everything in Enchanted works for me. However, I think the film's special highlights are its music and Susan Sarandon's devilish, over-the-top portrayal of Queen Narissa. Alan Menken's delightful original music adds true enchantment to the story. Coupled with witty lyrics by Stephen Schwartz, the songs set just the right tone for the movie, and if "So Close" doesn't win an Oscar nod I'll be extremely disappointed.
Sarandon simply couldn't be better as both the animated villain and the real-life evil-doer. Her voice is menacingly perfect in the cartoon segments, and the totality of her characterization almost overwhelms the screen in her few live-action scenes. Fortunately, fabulous make-up and costuming help bring Narissa to life in all her wicked glory.
Just how enchanting is Enchanted? Well, as you can tell, dear reader, I'm still under its spell.
(Released by Walt Disney Pictures and rated "PG" for some scary images and mild innuendo.)
Listen to Betty Jo Tucker and Mack Bates discuss Enchanted by clicking on this BlogTalkRadio link.