Past Is Prologue
by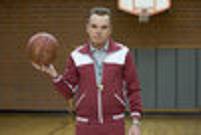 Reminding us how various unpleasant childhood experiences impact our adult lives, Mr. Woodcock also manages to evoke laughs -- in spite of the absurd situations it frequently depicts. Focusing on a successful young author and his hated former gym teacher who's about to become his stepfather, the movie succeeds because of perfect casting. Seann William Scott, Billy Bob Thornton and Susan Sarandon seem so genuine in their roles here that it's easy to believe in their characters no matter what silly things are happening on screen.
When John Farley (Scott) comes back home to receive a prestigious award for his popular self-help book -- which advises readers to "let go of the past" -- imagine his surprise to find Mr. Woodcock (Thornton), the man who made his life miserable in junior high, now dating his widowed mother (Sarandon). Another bombshell comes when John hears about Mr. Woodcock being tapped to receive the "Educator of the Year" award.
Turning away from the advice he gives others in his bestselling book, John can't forget the suffering and humiliation Woodcock foisted on students in his gym class, so he recruits pal (Ethan Suplee) to help him disgrace their former teacher and prevent his mother's upcoming marriage. In the meantime, John's gung-ho agent (the very funny Amy Poehler) fumes over John's neglect of his book tour and other promotional events.
Thornton (School for Scoundrels) simply couldn't be better as the rude, tyrannical P.E. teacher whose answer to everything is "10 laps." He definitely has this type of character down pat by now -- complete with frowns, gruff vocal expressions and an almost robotic body language. Scott (The Rundown) is particularly impressive in the way he shows John's gradual changes from the smooth author we first see signing his books to a frustrated mess of a man when dealing with his nemesis. And Sarandon (Irresistible) captures the sweet nature of a woman who only wants "her two men" to get along.
Granted, some scenes in this comedy go too far over the top. A corn-on-the-cob eating competition between Mr. Woodcock and John comes to mind as does their ridiculous interruption of a festival parade toward the end of the film. Unfortunately, I also think John's award acceptance speech includes the most mean-spirited comments I've heard so far this year. However, that public outrage certainly indicates how low this character stoops as a result of "not letting go of the past."
Mr. Woodcock may not be among the the best comedies of 2007, but it's an excellent example of the way skilled actors can enhance mediocre material and entertain us in the process.
(Released by New Line Cinema and rated "PG-13" for crude sexual content, language and mild drug references.)