Orgy of Vengeance
by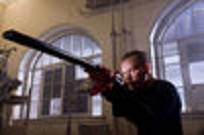 Kevin Baconís splendid performance as a family man bent on vengeance for the murder of his son almost makes Death Sentence worth seeing. I say ďalmostĒ because inconsistencies of editing plus too many unbelievable situations lessen the quality of the film. I even found myself chuckling while watching a couple of ridiculous scenes that were supposed to be very, very serious indeed. Did this ever happen in those similarly-themed Charles Bronson Death Wish movies? Not for me.
But letís start with the good news, and thatís Baconís ability to project such depth of emotion in his portrayal of Nick Hume, a successful insurance executive who practically idolizes his eldest son (Stuart Lafferty). One night, when heís driving the boy home from one of his hockey games, they stop for gas, and the lad is killed in a gang-initiation "robbery." The rest of the movie deals with the actions taken by Nick to exact revenge and the way his vigilante behavior ends up endangering his wife (Kelly Preston) and youngest son (Jordan Garrett). Right before our eyes, Nick changes from a relatively mild-mannered individual to a dangerous missionary of violence -- and Bacon manages to convince us of this transformation. Playing a grieving parent and a steely-eyed avenger with equal conviction, Bacon delivers one of the best lead performances so far this year.
Itís not Baconís fault his character seems to recover from numerous serious injuries too quickly -- as if by some kind of magic -- and then continues on his quest with superhuman strength. Nor can the actor be criticized for the irritating out-of-sequence editing in a key part of the film showing Nick fooling around with guns and hair before his final rampage.
Which brings us to the filmís vicious gang members. I call them ďthe gang that couldnít shoot straight.Ē Some of their scenes reminded me of those old B-movie Westerns where the bad guys shoot and shoot and shoot yet always miss their targets.
Most of the time, Iím a sucker for revenge movies and have no difficulty suspending disbelief while watching them. But when the film contains too many questionable scenes that cause my mind to wander from whatís happening on screen, I canít enjoy it. Instead, I find myself thinking about why important elements were done so poorly. Unfortunately, thatís the case with Death Sentence.
Still, fans of Kevin Bacon should not miss this one -- and it will probably please viewers who need another bloody action/violence fix.
(Released by Twentieth Century Fox and rated ďRĒ for strong brutal bloody violence and pervasive language.)