Profound and Enthralling
by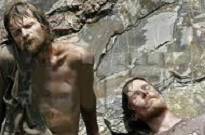 Anyone looking for a lot of helicopter-zooming action or continuous frenzied gunfire in Rescue Dawn may be disappointed. But those who want to know what it was like for real-life fighter pilot Dieter Dengler to survive his 1966 capture in Laos during the Vietnam conflict will be enthralled. Director Werner Herzog never lets us forget for one minute that this is an intense story of survival against all odds.
When Dengler's (Christian Bale) plane is hit he's forced to parachute out. His co-pilot doesn't make it, and it's only minutes until Dengler falls into the hands of the enemy. Moved from one barren camp to another by anxiety-ridden foreign-speaking soldiers who obviously have no commander to tell them what to do, Dengler eventually ends up in a small village where he's thrown in with a handful of other POWs. That they are emaciated and look as if they've just climbed out of a sewer is Dengler's first impression..
Deprived of any human resources for some time, the POWs have become almost zombie like. They introduce themselves to Dengler but without any emotion. Their eyes reflect worry because each new POW means less gains of rice they will have to eat. Their compound is a small hut built above the ground with easy access to the surrounding jungle. On his first night there, Dengler tells the POWs it would be easy to escape if they weren't manacled every night, but he gets only stares from most of his new comrades.
Fellow inmate helicopter pilot Duane Martin (Steve Zahn) reacts to this announcement with amusement and explains the dangers of the jungle. Without water, he says, you won't last a day. Days go by slowly and Dengler continues to work on a plan, asking which men will go along with him.
As the author of The Vietnam War: Life as a POW, I researched and interviewed many Vietnam POWs for two years, so I have a good idea of what these brave men really went through. Herzog is a noted documentarian whose movies like Grizzly Man haunt and intrigue us at the same time. He accomplishes this in Rescue Dawn as well, and while other Hollywood movies have tackled this subject, Herzog brings a realism and uncertainty that builds slowly and holds viewers captive.
Enhancing this movie is the keen cinematography by Peter Zeitlinger, who captures the confines and sparseness of the village as well as the lush jungle forest so well it exudes a reach-out-and-touch-it perfection.
Performances by Christian Bale and Steve Zahn are exceptional. Bale embodies every asset of a man so in fear of his life he refuses to give up at any cost. Zahn, in perhaps his finest role ever, is the jaded POW who believes there's no hope. Yet day by day, Dengler feeds him one more ounce of hope. When the two of them actually make their escape, it's a journey with no holds barred and no expectations -- but each one musters up all the fight and hope in the world.
There's a tad of political meandering in Rescue Dawn, but it never gets in the way of this enthralling story that explores the human spirit in the most devastating of circumstances.
(Released by MGM and rated " PG-13" for intense war violence and human torture.)
Review also posted at www.reviewexpress.com.