Things Get Hairy for Harry
by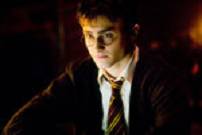 I've been under Harry Potter's spell ever since reading J. K. Rowling's first book about the magical adventures of this young wizard. Harry Potter and the Order of the Phoenix, Harry's latest cinematic outing, certainly lives up to my expectations -- although Harry Potter and the Sorcerer's Stone remains my favorite, probably because everything appeared on screen almost exactly as I pictured the characters and events in my own mind.
Happily, the following three Harry Potter movies were entertaining enough to keep my sense of wonder alive. I marveled at the daring of Harry (Daniel Radicliffe) and his friends Hermione (Emma Watson) and Ron (Rupert Grint) as they solved the mystery of The Chamber of Secrets; I cheered their discovery that Sirius Black (Gary Oldman) was much more than a criminal in The Prisoner of Azkaban; and I shuddered at Harry's harrowing graveyard meeting with the evil Lord Voldemort (Ralph Fiennes) in Goblet of Fire.
Which brings us to The Order of the Phoenix. In this fifth movie, Harry looks all grown up now as he faces a series of almost impossible challenges. He's not only under suspicion of being insane because of his claim -- backed up by Headmaster Dumbledore (Michael Gambon) and the members of a secret group called Order of the Phoenix -- that Voldemort has returned, but he also could be expelled from Hogwarts School of Witchcraft and Wizardry after performing defensive magic in the presence of a Muggle. Even more devastating, Harry must deal with Professor Dolores Umbridge, a new Defense Against the Dark Arts teacher, who just happens to be the worst bureaucratic villain imaginable.
Imelda Staunton (Vera Drake) uses acting magic of her own to bring Professor Umbridge to life. Always dressed in some shade of pink, she looks harmless enough at first. But Staunton endows this character with a ruthlessness even more frightening than the Dementors Harry tangled with. And despite all her emphasis on discipline and rules, Professor Umbridge offers no help to her students in the area she's supposed to be teaching, so Harry and his friends decide to learn magic on their own.
Unfortunately, Harry is bothered by visions about terrible things going on within the Ministry of Magic -- and he ends up leading a struggle against this officious ruling group. Before the movie finishes, Harry must grapple with his own inner demons as well, and Dumbledore takes on the Dark Lord Voldemort in an explosive battle of wills and magic.
Projecting great emotional depth, Radcliffe shows his growth as an actor in this most serious Harry Potter adventure so far. Still, I wish the script had provided viewers with more humor. "Lighten up!" was the phrase that ran through my mind while watching so many extremely intense sequences.
However, Order of the Phoenix features enough magic-wand action and intriguing creatures to please most Harry Potter fans. Personally, I absolutely loved the Centaurs and the poor giant who's tied to a tree! Although appearing in too few scenes, they play a key role in solving the "abuse of power" problem.
It's always a treat to see well-made movies emphasizing the value of courage, friendship and loyalty -- and despite all its abracadabra, that's the important message delivered by Order of the Phoenix.
(Released by Warner Bros. and rated "PG-13" for sequences of fantasy violence and frightening images.)