Overly Faithful, Idle Incantations
by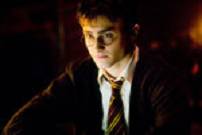 One glimpse of the chosen wizard's worried face and it's obvious childish things have been left behind once and for all in Harry Potter and the Order of the Phoenix. That doesn't constitute a giant step forward however.
As the movie opens, a heat wave is scorching suburban England and neither Harry nor Daniel Radcliffe looks comfortable in his own skin. With shorter hair and features that have grown as angular as the scar on his forehead, our testy hero almost looks severe. Growing up has been a long, draining process -- and there are still two movies to go!
While Harry may be maturing physically and emotionally, year five at Hogwarts School of Witchcraft and Wizardry proves to be enervating and inconclusive. He sticks his political neck out, but very little is risked cinematically; you get the feeling the franchise is running in place.
An awkwardly hormonal adolescent, Harry was thrust into the fray with Lord Voldermort (Ralph Fiennes) at the end of Goblet of Fire. What he undergoes in the fifth installment is much less exciting. The first hour of the transitional Order of the Phoenix is repetitive and exposition-heavy; and the audience isn't much wiser by the end.
Because this is the most faithful adaptation in the series thus far, J.K. Rowling is responsible for saga's stalled narrative progression -- though who can really blame her for coasting, for padding this once-in-a-lifetime literary phenomenon? Besides, it's telling that the longest book (at 800 pages) has been turned into the shortest of the five movies. Screenwriter Michael Goldenberg and director David Yates had room to embellish but chose to play it safe. The movie is competently made. Cast addition Imelda Staunton and Alan Rickman, returning as Severus Snape, do fine work and the visuals and special effects pass muster. Yet there's a mechanical, dashed-off quality. In short, the magic is faint.
In the first sequence, Harry must use a spell to protect he and his leaner yet still blubbery cousin Dudley from a Dementor attack. A posse of friendly wizards then whisks him away to the London headquarters of the Order of the Phoenix. All we learn about this organization, which counts Harry's godfather Sirius Black (Gary Oldman) and Alastor "Mad-Eye" Moody (Brendan Gleeson) among its members, is that Headmaster Dumbledore (Michael Gambon) founded it.
Harry faces expulsion from Hogwarts for waving his wand in the presence of Muggles, but is cleared at an Inquisition-like hearing at the Ministry of Magic. Shunned by Minister Fudge (Robert Hardy) and the ministry's propagandizing newspaper for claiming Voldemort is back ("Potter or Plotter?" reads one headline), he returns to school.
With the appointment of an officious new Defense Against the Dark Arts teacher, Hogwarts takes on a Dickensian flavor. Armed with a Victorian educational philosophy and a completely pink wardrobe, Professor Dolores Umbridge (Imelda Staunton), a cross between Margaret Thatcher and Hilary Clinton, does Fudge's bidding. In the sadistic tradition of British public schools, she believes in punishing children harshly and squelches free speech.
More importantly, Umbridge refuses to teach the students how to defend themselves adequately. Harry has no choice but to train his fellows in secret for an impending battle within the wizard world. He forms an ad hoc militia called Dumbledore's Army. Ron (Rupert Grint) and Hermione (Emma Watson) join of course, along with Cho Chang (Katie Leung) -- the late Cedric's girlfriend, whom Harry fancies -- and a random newcomer, the pale Luna Lovegood (Evanna Lynch).
All the while, Harry suffers from disturbing nightmares that enable him to see the past and predict the future. Unfortunately for the audience, his prophetic visions only foretell a decidedly anticlimactic duel, which takes place in the Hall of Prophecy at the Ministry of Magic.
Nothing much new is revealed about Harry's status as the righteous standard-bearer. No longer an innocent golden boy, he experiences the syndrome afflicting every hero, namely, he must grapple with the good and evil forces inside himself. As vital as this psychological ordeal may be, you get the impression it's being drawn out in order to sell more books and movie tickets.
Yates, a director with television credits such as the much-admired HBO movie The Girl in the Café, seems intent on keeping the movie grounded in the familiar. He spreads out the humor, wonder, and intimate drama too evenly, so nothing in the movie jumps out as memorable. It's not surprising he's been hired to helm the sixth and penultimate installment. He has a job to finish.
At the end of Goblet of Fire, Dumbledore warns Harry that things are only going to get more difficult. We'll have to wait until Harry Potter and the Half-Blood Prince to be convinced.
(Released by Warner Bros. and rated "PG-13" for sequences of fantasy violence and frightening images.)