Timefoolery
by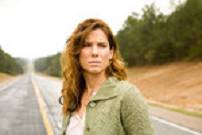 Like a bird frantically escaping from its cage, linear storytelling flies out the window in Premonition, a psychological thriller starring Sandra Bullock as a woman caught up in a time-puzzling crisis. Unfortunately, I'm the kind of viewer who prefers straightforward storytelling -- even in movies -- so this twisty film's mind-boggling out-of-sequence progression didn't work for me. It's as if Groundhog Day mated with The Lake House and produced a child who inherited the worst characteristics of each parent.
Still, Bullock is always watchable. She's the kind of actress most viewers want to root for no matter what type of role she plays. Consider her klutzy comic talents on display in Miss Congeniality and the dramatic skills she brought to her unsympathetic supporting role in Crash. This latest film focuses on Bullock's ability to make us care about the character she plays -- and we almost forget about the unbelievable and confusing plot forced upon her.
In Premonition, Bullock portrays Linda Hanson, a devoted wife and mother who seems to have it all until the day she receives word that her husband Jim (Julian McMahon) has been killed in a car accident. Imagine Linda's surprise when she wakes up the next morning to find Jim alive and looking as healthy as ever. Was the news of his death merely part of a nightmare? Maybe, but it happens again and again -- with Linda finding herself in different time periods both before and after the fatal event. As Linda lives her life out of order, she begins to doubt her own sanity -- as do others around her -- and also starts to discover cracks in the façade of her supposedly perfect life. Can she challenge time to put everything back together and prevent her husband's fatal car crash -- or does she really want to?
According to Bullock, Linda represents the American dream -- "a house, two kids, married to your sweetheart -- that sort of idealized life we think we want." Premonition begins when the pressures of day-to-day life cause things to start breaking apart. "You have a woman who's complacent, sort of numb, a husband who's the same," Bullock explains. "If you had the chance to make a u-turn to fix something, would you, or would you just continue on and change your life?"
Although I hate to see Bullock looking so dreary and pathetic, she projects all the emotions -- both dramatic and subtle -- necessary to convince us of Linda's uncertainty about her situation. Providing strong support, the handsome McMahon (Fantastic Four) shows off his considerable potential for leading-man status here, and Kate Nelligan (Eye of the Needle), as Linda's worried mother makes us wish she were in more movies. There's certainly no reason to complain about this fine cast.
However, because of the film's lack of cohesiveness and its ridiculous idea about what's really happening to Bullock's character, Premonition earns a well-deserved spot on my list of filmdom's "most ridiculous movies," right below The Wicker Man.
NOTE to Sandra Bullock: Please consider doing a comedy again soon. Your many fans will surely thank you.
(Released by Metro-Goldwyn-Mayer and rated "PG-13" for some violent content, disturbing images, thematic material and brief language.)
Listen to the ReelTalk Radio Show discussion of Premonition by clicking here.