Snake Charmer
by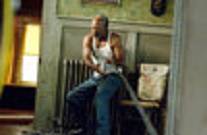 Filmmaker Craig Brewer follows up his Sundance darling, Hustle & Flow, with another film about people overcoming tough odds in the drive for personal redemption. His 2005 movie force-fed us a kind of artificial sympathy toward pimps and how hard it is for them to make a living, but in Black Snake Moan, Brewer tackles equally tough subject matter and makes it much, much easier to swallow. In fact, it's quite a pleasant little pill this time around.
Call me crazy, but there's just something more real and genuinely appealing about people overcoming sexual abuse and rejection than there is about a hustler recording a gold record. Though the two films share an equally delicious style of sweltering Southern atmosphere that's quickly becoming a Brewer trademark, Black Snake Moan is, by far, the stronger of the two films. It's excessively pulpy, trashy and exploitative, but the way Brewer artfully folds in his message of healing and reparation -- without being manipulative -- proves he's now a more seasoned filmmaker with a better sense of what he wants to do.
God-fearing Bluesman Lazarus (Samuel L. Jackson) gave up playing smoky juke joints many years ago to tend to his farm in rural Tennessee. His wife Rose (Adrian Lenox), believing her husband has since lost his spark, is leaving him for his younger brother. Lazarus is now just a lost soul wasting away in a tin roof shack... until he finds a half-naked, coked-up girl lying, beaten, near his gravel driveway. While nursing the girl back to health, Lazarus decides that Rae (Christina Ricci), as she's known, needs to have the wickedness "therapied" out of her, so he chains her to his radiator and informs her she's not leaving until she's cured.
Ricci does white trash so well. She's spectacular as the eruptive nymphomaniac who spends nearly the entire film in t-shirt and panties itching and twitching with her "sickness." The spells cause her to throw herself on the nearest man in a fit of carnal rage. To her, sex is a daily function of life, as common as eating and drinking. A way to get what she wants. But it's amazing how Ricci never let's us objectify Rae's sexiness -- despite the fact that she's never looked this good. We feel sorry for Rae and we're always hoping she'll make the right decisions, but, of course, she never does. She's just an innocent young soul who's experienced a bad life of abuse and abandonment. Ricci's tender moments -- including a stirring impromptu rendition of "This Little Light of Mine" -- are truly heart rending.
Rae clings to her fiancé Ronnie (Justin Timberlake), the only thing that seems stable in her life. But Ronnie's quickly shipped off to boot camp, leaving her to face her demons alone. Timberlake doesn't have a whole lot to work with here, but he pours himself into his Ronnie. He was actually quite impressive as Alpha Dog's Frankie and follows that up with a nice turn here.
Jackson and Ricci display amazing chemistry together. Without it, the film would surely fizzle. Initially, we wonder how two people, so different, can possibly find any common ground -- especially when the white one wears a rebel flag emblazoned across her chest. But hats off to Brewer for making us believe. There's a scene that takes place during a lightning storm as Jackson plugs in his electric guitar, and begins to wail the titular song with Rae nestled in his arms. We're not sure where it's going, but once it's over, the two wounded birds have clearly forged an impenetrable bond born of danger, love and sickness. A primal bond that will never be broken. That scene alone is worth the price of admission.
Black Snake Moan is about the blues. We learn through brief interludes by legendary Blues recording artist Son House, that the blues is not only about music. It's about pain that lives in the heart, shared between a male and a female. Watching this film may be the closest you'll ever come to seeing what the blues actually looks like. It's dirty, and it's stinky, but most of all, it's something that comes from within a person's soul.
(Released by Paramount Vantage and rated "R" for strong sexual content, some violence and drug use.)
Review also posted at www.franksreelreviews.com .