Barely Fictional
by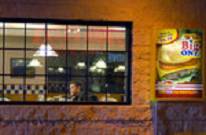 Eric Schlosser, author of Fast Food Nation, teamed up with director Richard Linklater to write a fictional movie adaptation of his book, ostensibly to communicate the same themes in a format that would be more accessible than a preachy documentary.
They don't quite succeed, since the movie feels more like a documentary than an organic story anyway, and, frankly, it still feels a bit preachy. What they did was create characters from the different groups of people who affect and are affected by the fast food industry (and, more generally, by growing corporatization and commercialism). Thus, we have Greg Kinnear as a corporate executive sent to investigate the meat-packing plant; Catalina Sandino Moreno, Wilmer Valderrama, and others as Mexican border-crossers working at the plant; and Ashley Johnson (Chrissy from Growing Pains!) as a young fast food restaurant employee who finds her inner activist awakening.
The movie bounds from story to story, driven mostly by Linklater-style college-philosophy dialogue, but pauses a little too often for a character to do some speechifying. It becomes too obvious that every character was written for a specific lesson-imparting purpose. So it's not the most naturally flowing film, but it does get its point across, and should do its part to make you think twice before chomping down into your next local fast food burger.
I think the movie's serious subject matter does give it some considerable impact -- what the film succeeds in showing is how far the industry's negative side effects reach, giving but a small sample of the number of lives it affects; to grasp that observation is to embrace a larger perspective that most of us are eager to ignore.
At the very least, Fast Food Nation offers us another reminder of the gross negligence of humanity that occurs when chasing the dollar becomes the bottom line. (Capsule review)
(Released by Fox Searchlight Pictures and rated "R" for disturbing images, strong sexuality, language and drug content.)
Review also posted at www.windowtothemovies.com.