Another Costner Baseball Flick? Enough Already!
by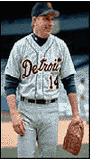 Everyone knows Kevin Costner plays at playing baseball better than any other actor (except for the late Gary Cooper in Pride of the Yankees). After all, he proved his affinity for the game beyond a shadow of a doubt in Bull Durham and Field of Dreams. Now, instead of quitting while he's way ahead, Costner takes on For Love of the Game, a melodramatic film version of Michael Shaara's novel.
Costner portrays an injured, middle-aged pitching star who must choose between retirement or being traded by his beloved team. During the course of one eventful game, his entire life passes before him as he tries to convince himself he still has the right stuff. He thinks mostly about two people --- his father, the man responsible for his love of baseball, and his girlfriend, a woman who may leave him because of his obsessive love of the game.
Mixing sports and romance frequently works magic in film. Most older moviegoers will never forget Spencer Tracy and Katharine Hepburn as the aggressive sports writer and female athlete who fall for each other in 1952's Pat and Mike, one of Hollywood's best romantic comedies. Costner himself heated up the celluloid with Rene Russo in 1996's Tin Cup, an edgy love story with golf as its backdrop.
In For Love of the Game, romance takes second place to sports. That's just as well, for chemistry is sadly missing between Costner and Kelly Preston (Jack Frost), who plays his love interest. Although both watchable actors project strength of character, they fail to generate the kind of sparks required of memorable screen couples. Perhaps this is writer Dana Stevens' (City of Angels) fault, since it's never very clear why the two are attracted to each other. They simply "meet cute" when Costner sees Preston kicking the tires on her stalled car.
While many baseball fans should enjoy this movie because of its well-filmed game scenes, some may be insulted over the unflattering way they are depicted in its ballpark sequences. Are all avid lovers of baseball this obnoxious? If true, America's Favorite Pastime would deserve an "R" rating.
As directed by Sam Raimi (The Quick and the Dead), For Love of the Game is not a bad movie --- just a disappointing one. It does feature outstanding production values and a worthwhile message about deciding what's important in life. Also, there are no annoying car chases, noisy special effects, or supernatural happenings. But, please, Mr. Costner, no more baseball films. Tennis, anyone?
(Released by Universal Pictures and rated "PG-13" for some strong language and sensuality)