Dazzling Visual Effects Bring MUMMY To Life
by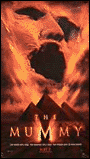 A sacred tomb. Buried treasure. An ancient priest filled with rage. Looks like a job for Indiana Jones, right? Not this time. It's Brendan Fraser who saves the day in The Mummy, an entertaining, but over-long, homage to those old Saturday matinee adventure films.
As a result of his quirky performances in George of the Jungle and Blast From the Past, this appealing star has developed quite a following among youngsters everywhere. At the George of the Jungle world premiere in San Diego's Wild Animal Park, Fraser seemed more Pied Piper than actor as children surrounded him during the entire event. While this third film version of The Mummy may be too scary for very young kiddies, others will enjoy watching Fraser in his first role as an action hero. His cynical, tongue-in-cheek humor gives this wild ride of a movie its touch of reality. .
Fraser plays a former member of the French Foreign Legion facing the wrath of an Egyptian priest entombed with flesh-eating bugs for over 3,000 years. (Don't you hate it when that happens?). Opening scenes of horror in the Thebes of 3,000 B.C. lay the groundwork for the Mummy's fury. They depict a doomed affair between the priest and the Pharaoh's mistress. Moving to the 1920s, Fraser's garrison comes across ruins of the lovers' tomb. Later, in Cairo, a beautiful librarian (Rachel Weisz) and her brother (John Hannah) obtain Fraser's help in trying to locate a sacred book made of pure gold they believe is hidden among those ruins. Naturally (or supernaturally?), all sorts of mysterious forces are unleashed during their search for this treasure.
As the latest Mummy, Arnold Vosloo has lots of help from the magic of technology --- more than either Boris Karloff or Lon Chaney Jr. could count on in earlier portrayals. Director Stephen Sommers (Rudyard Kipling's Jungle Book) included 141 computer-animated shots enhancing the mummified priest's frightening antics. This is, indeed, a Mummy with an ATTITUDE --- one who eats human body parts, causes plagues of locusts, massive dust storms, and epidemics of gruesome boils and sores. In one fantastic scene, his giant head of sand actually devours an airplane in flight.
Finally, this demonic creature makes a fatal mistake. He wants the fetching librarian for a human sacrifice to bring back his long-dead girl friend. But by this time, Fraser has fallen for her, and no self-respecting action-hero lets a Mummy take his sweetie. It's all great fun --- just a little too much of it. With more disciplined editing and elimination of extraneous characters, The Mummy would be a more satisfying movie. Still, vierwers who enjoy mind-blowing special effects should not miss this technically amazing film. And that's a wrap! (Sorry, just couldn't resist it.)
( Released by Universal Pictures, The Mummy is rated 'PG-13' for fantasy, violence and gore plus brief strong language.)