Four Noble Truths Beneath a Banyan Tree
by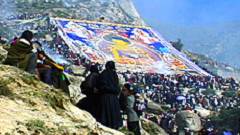 No surprise that, his "special message" introducing the film, the current, fourteenth Dalai Lama has bestowed "blessing and endorsement" on Vajra Sky Over Tibet. Unabashed propaganda for that country's threatened Vajrayana (from Vajra, Sanskrit for "thunderbolt of awakening") Buddhism, the documentary is narrated by His Holiness' U.S.-educated nephew, Tenzin L. Choegyal, and by exiled national singer Dadon as well as its U.S. director-writer-cinematographer-producer John Bush and is to open here to coincide with the "Living Buddha" Dalai Lama's month-long visit.
For this finale of the five-year Yatra Trilogy, Bush employed members of his family in addition to "our Tibetan crew, who will remain anonymous" to protect them, although elsewhere the latter are said to be only two people plus a local guide and driver. Only three green-uniformed soldiers are caught on-camera -- two relaxed and smiling as they sit and light cigarettes, another pushing his child's tricycle -- but we are informed that similar concerns about reprisals precluded the inclusion of interviews, even though voiceover promises but does not deliver three octogenarian Red monks' (Yellow are the Dalai Lama's) reminiscences of their arrested, released and possibly murdered Panchen Lama.
For thirty-five years a Buddhist, Bush dedicates the film to his own and the Dalai Lama's teacher and says that, welcomed as a pilgrim, he received "extraordinary access" to record this outward journey that mirrors the inward, spiritual one. Thus, smiles of faces, rivers, terraced fields, pagoda-temples, palaces, gardens and, of course, the Trans Himalayas. Paralleling this physicality, is the mystical of omnipresent choral and solo chanting, aromatic smoke and oil-wick votive flames, rich detail in roofs and lintels, low-relief statuary and a procession of good and evil gods and demons in wonderful circular red-gold-blue-black-dominated frescoes, attesting to the interconnectedness of all, permanent reality undergirding physical transience.
Unfortunately, halfway through the eighty-nine minutes, Vajra Sky halts under its own circular weight, too, with nowhere to go. Better suited for a shorter television slot, built on neither plot, character nor linear or vertical progression, it would "instead celebrate the experience of place." But the low-resolution, color-bleached, heavily outlined camerawork cannot capture the natural magnificence of the austere Xizang which Britain recognized as Chinese in 1914, control of which Beijing cemented by invasion in 1950.
Like the several Free/Save Tibet movements, the film seeks to raise awareness about, and a cry to remedy, not Communist extirpation of Buddhism at home, but its cruel intolerance in the National Autonomous Region of Tibet that led to the Dalai Lama's flight on Christmas Day, 1959, and threatens the loss of a fifteen-hundred-year-old religious-cultural fabric. (Not one government, incidentally, has publicly recognized the country's independence or government in exile.)
However well intentioned, the film is caught in the unenviable position of the director's statement of aim, "to show the painful absence of true religious freedom there; a fundamental violation of human rights." Celluloid cannot show the absence of an abstract -- malnutrition, yes, in bloated bellies; desertification, melting ice caps, war or refugees or genocide, prostitution, slavery or poverty, can be filmed. But here three narrators emotionally tell us what has happened, what is missing, and while it sounds cynically counter to what one may believe, the thousands of devotees, bonzes and nuns filmed in poorly identified places of worship appear actually to belie the claim. Traditions of "wisdom" and "compassion" are talked about, but, again, a non-storyline film must be at a loss to image such concepts.
Further undercutting the purpose are assertions about entering the historically inaccessible forbidden realm without requesting or receiving official permission, though "doors seemed to open from the inside." Personal experience speaks strongly against this, backed by unassailable evidence in publications like National Geographic-sponsored Ian Baker's recent The Heart of the World: A Journey to the Last Secret Place (with its own introduction by the Dalai Lama). Finally, it is deflating to learn from credits that in this extremely rare filming "entirely inside Tibet," the stirring murals have been "recreated through the Rubin Museum of Art."
(Released by Direct Pictures; not rated by MPAA.)