Gross but Fun
by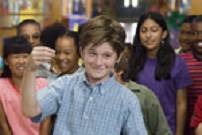 Why did I close my eyes so much while watching How To Eat Fried Worms, a supposedly harmless little family film? Because I'm a vegetarian, and those squiggly little creatures served up in such nauseous ways really got to me. Still, I have to admit being entertained by the young actors involved in all this nonsense, and I appreciate the way the movie zipped along at such a brisk pace most of the time. Also, as a vegetarian, I'm happy to report that "no worms were harmed while making this movie."
Based on Thomas Rockwell's immensely popular book of the same name, How To Eat Fried Worms centers on Billy (Luke Benward), an 11-year-old boy who faces a challenge on his first day at a new school. Joe (a menacingly funny Adam Hicks), the school bully, and his cohorts have placed worms in Billy's thermos. To get back at them, Billy says he eats worms all the time. And this leads to a bet that he can't eat TEN worms all in one day. If he fails, he will have to walk around school with worms in his pants. If he wins, Joe will have to do the Mr. Wormy Pants stroll.
How many things can be done to a poor little worm in preparing it to be eaten? This movie probably exhausts that list, including being doused with marshmallows, barbecued, blended and put in an omelet. I get queasy just thinking about the wiggly creatures sliding down my throat, no matter how disgustingly disguised. But so does Billy. You see, he just happens to have a weak stomach. Yikes! No way could I steel myself like he does in order to carry out such an ordeal. I've heard of mind over matter, but there's a limit. Also, although this is a cute and funny movie, I wish fewer worms had to be eaten -- purely for artistic purposes (honest!). Ten made the film a bit repetitive.
Much credit for the movie's success goes to Benward (Because of Winn-Dixie), who gives a very appealing performance as Billy. Because of this youngster's believable acting, I empathized with the character he plays and felt bad about his predicament, even though he partially brought it on himself. It's easy to cheer for Billy. Doesn't everyone get a kick out of seeing a bully get his comeuppance?
"The most important thing about How To Eat Fried Worms is that it's a children's movie for all ages -- even though you might get grossed-out," Benward says. "It has a message about friendship, bravery and standing up for yourself."
Friendship plays a key role here, particularly in the form of Erika (Hallie Kate Eisenberg), a student who encourages Billy to win the yucky bet. It's a pleasure to see Eisenberg (Paulie), who stole our hearts in those TV commercials where her voice was dubbed in by famous singers, become an excellent young actress. I'm especially impressed by the way she endows her supporting character with charm and sensitivity in the midst of "boys being boys."
And those "boys" are a motley crew indeed. Along with Billy and Joe, the group includes: Twitch (Alexander Gould), Adam (Austin Rogers), Benjy (Ryan Malgarini), Bradley (Philip Bolden), Plug (Blake Garrett), Techno Mouth (Andrew Gillingham) and Donny (Alexander Agate). Each young actor shines here, but Gould stands out by looking exactly like a person who should be called "Twitch," and Malgarini is memorable for the gusto with which he plays a wannabe French chef. Ty Panitz is also a riot as Billy's nuisance of a little brother.
I know what you're wondering right now: where are the adults in this movie? Well, they're kind of insignificant to the story, but Billy's mom and dad -- who pay more attention to his younger brother -- are played effectively by Ted Cavanagh (TV's Ed) and Kimberly Williams (The War at Home); James Rebhorn (The Last Shot) is suitably stern as the school's authoritarian principal; and Andrea Martin (My Big Fat Greek Wedding) makes the most of her brief appearance as a teacher obsessed with Egyptology.
Granted, some adults, even non-vegetarians, may not enjoy How To Eat Fried Worms. But that doesn't matter: this one is strictly for the kids -- who will no doubt eat it up.
(Released by New Line Cinema and rated "PG" for mild bullying and some crude humor.)
Read ReelTalk's interview with Luke Benward by clicking here.