Pokey Who?
by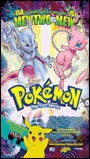 Attention, all adults! If you must see Pokémon:The First Movie, here are tips to help you through that traumatic experience. First, take a person below the age of 10 with you. You will need an expert to explain some of the film's crucial plot nuances. Next, don 't strain yourself trying to decifer what the pocket monsters are saying. Just relax; they are merely repeating their names. And, finally, if you're feeling inferior about a lack of Pokémon knowledge, remember those smarty pants kids probably can't balance a check book, remove wallpaper, or appreciate Andy Rooney.
Seriously, folks, this movie isn't too bad. As animation goes, it's much better than All Dogs Go To Heaven or Cats Don't Dance. And, it delivers a message of sorts against violence. Granted, there's lots of battling between creatures and their clones before the sermon is presented, but it's a worthwhile one most youngsters can understand. No wonder children have become fascinated by over 100 different Pokémons. They are weirdly imaginative. One in particular, named Pikachu, looks so cuddly it would be hard to resist her/him/it. This charmer stars in a confusing, but mercifully short, cartoon preceding the main feature.
Pokémon:The First Movie depicts a showdown between bio-engineered Mewtwo and the legendary Pokémon Mew. Human trainers Ash, Misty, and Brock are drawn into this ultimate battle as part of their quest to become the greatest Pokémon masters of all time.
In its first few days showing in the U. S., the movie earned over $50 million, more than the opening box office numbers for Disney's Lion King. How did this Pokémon phenomenon get started? It originated as a Japanese hand-held video game enabling players (called trainers) to capture an ever-increasing number of collectible species and engage in battles with other trainers. Each Pokémon has its own special powers. No killing is involved in their capture, but they are rendered unconscious. Pokémon soon spread throughout the world in the form of trading cards, toys, comic books, videos, and a popular kiddie television show.
Nintendo officials believe the game encourages teamwork and cooperation. But some parents argue it causes too many problems. One mother called a radio talk show to complain of spending over $400 on Pokémon "and Christmas isn't even here yet!" A California Burger King faced near riot after running out of the Pokémon merchandise they advertised. In addition, many schools have banned Pokémon trading cards because they distract students from their lessons.
Unfortunately, dear grown-ups, no end to the Pokémon invasion seems imminent. How can a critic be so sure of such a thing? That's easy. After all, isn't the title of this film Pokémon: The FIRST Movie?
(Released by Warner Bros. Family Entertainment and rated "G" --- but includes cartoon violence.)