Heartbreak High
by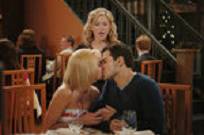 A teenage lothario who strings along three girls at the same time faces serious consequences from a heartbroken trio in John Tucker Must Die. Because no one makes it through high school without experiencing at least one heartbreak, this revenge comedy co-starring Jesse Metcalfe and Brittany Snow will probably resonate with many of its target audience. Other viewers may find it too predictable as well as hard to believe -- mostly because the actors look so much older than real high school students.
While Metcalfe (age 28!) displays the same physical charms he's known for in Desperate Housewives, that's the extent of his appeal as John Tucker --- he's like a live version of Barbie's "Ken" doll on screen. Snow (The Pacifier) fares better as the new student recruited to help give this popular high school hunk his comeuppance. With her wide-eyed facial expressions and articulate delivery, Snow turns in a solid performance, one that showcases her potential for greater things to come.
Every high school has its "Big Man on Campus," and in this movie it's the title John Tucker, a captain of the basketball team who's beloved by the entire school. The girls swoon over him; the boys idolize him. When Beth (Sophia Bush), Heather (Ashanti) and Carrie (Arielle Kebbel) discover John is dating all three of them, they ask newcomer Kate (Snow) for advice on how to get revenge. Unfortunately, all their plans to make John "undatable" backfire; he's the Teflon stud -- everything they do to embarrass him only seems to increase his popularity. The girls finally resort to a strategy for breaking the guy's heart just as he broke theirs. They decide to tutor Kate in how to make John fall for her. When he does, she will dump him. So there!
From this point on, John Tucker Must Die suffers from a bad case of predictability. The only surprise here involves Scott, John's younger and less egotistical brother, as played by Penn Badgley (Debating Robert Lee). He's much more attractive than the main character. Lucky Kate! She snags Scott as a chemistry lab partner. And that's probably why she's reluctant to engage in a relationship charade with his big bro.
However, because Kate has been ignored for so long at the various schools she previously attended, all the attention from her new friends convinces her to go along with the pretense. Unfortunately, she soon begins to enjoy her time with John, who falls hard for her. Will she dump him as planned? If so, will this change his cheating habits?
With its breezy scenes of cheerleading, basketball, dating, social cliques and friendships, John Tucker Must Die skims the surface of high school life. The movie even manages to evoke a few laughs, especially with shots of guys -- including the hunky Metcalfe -- in colorful thongs. And, as director Betty Thomas (The Brady Bunch Movie) says, "It explores the games that go into having a relationship -- either fake or real." Still, to earn my suspension of disbelief while watching this comedy, the cast would have to look more like high school students than the twentysomethings they really are.
(Released by Twentieth Century Fox and rated "PG-13" for sexual content and language.)