Satire at Its Best
by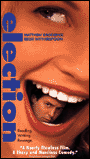 In an important annual ritual, most critics pick the movies they consider the ten best of the year. While 1999 isnít over yet, it would take a miracle to dislodge Election from my personal list. Released on a limited basis last April, this dark comedy is now out on video --- good news indeed for those who missed this gem during its short multiplex run.
Matthew Broderick (Addicted To Love) plays a meddling high school teacher, and Reese Witherspoon (Cruel Intentions) co-stars as an obnoxious, overachieving student. These two fine actors revel in their roles; they just couldnít be better.
Witherspoonís character wants to be student body president. Broderick, the student council advisor, canít stand the thought of spending a year working with her in this position, so he persuades the schoolís leading athlete (Chris Klein) to run against her.
What Witherspoonís character wonít do to get elected hasnít been thought of yet by any opportunistic politician. She bakes cupcakes for everyone, puts up the biggest banners and tears down others, etc. Finally, she even spies on the people counting the votes. Peering in at them, she assumes she has won. Her happy expression while pressing that smug face up against the classroom window is absolutely priceless! And her goofy victory dance in an empty hallway makes you laugh until it hurts.
But wait! Will Broderick tamper with the results? Is he really that unethical? After an unnerving battle with temptation, this frustrated teacher makes a decision that impacts his own life and the future of the ambitious student. Election is a subversive, wickedly funny film. However, even though itís about teenagers, this hilarious movie may not be appropriate for many of them. It contains unnecessary explicit sex scenes and too much offensive language. Bummer!
Still, mature viewers should not miss Election. If you fit in that category, run --- do not walk --- to your nearest video store and rent a copy of this outstanding film.
(Released by Paramount Pictures and rated ďRĒ for strong sexuality, sex-related dialogue, language, and a scene of drug use.)