Fashionista in Action
by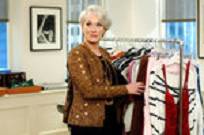 Sporting a stunning new look, platinum-coiffed Meryl Streep takes charge of the screen like supermodels command the runway in The Devil Wears Prada, a witty comedy about an arrogant editor of a high-fashion magazine who's viewed as the boss from hell by all her underlings.
The devil, as they say, is in the details, and Streep has them down pat -- from a dismissive flick of her finger to a disapproving purse of her lips. Although inhabiting her character as seriously as humanly possible, Streep ends up being extremely amusing as haughty Miranda Priestly. And, because of her back-to-back brilliance in A Prairie Home Companion and The Devil Wears Prada, she's finally a worthy candidate for my Mona Lisa Hall of Fame -- which I've set up to honor women who are not just getting older but more valuable. (I'm sure this news will make her day.)
Anne Hathaway, Emily Blunt and Stanley Tucci also deliver entertaining performances here. Despite her sometimes annoying high-pitched voice, Hathaway (Ella Enchanted) is quite convincing as Andy Sachs, a journalism graduate who's hired as an assistant to Miranda and must deal with the woman's ridiculous demands, including such impossible assignments as obtaining the new unpublished Harry Potter manuscript for her twin daughters.
Blunt (Irresistible) seems perfect in the role of Emily, Miranda's senior assistant, a sarcastic young lady who can't understand why Miranda decided on Andy in the first place. This up-and-coming British actress makes us smile, even as we cringe when her character rolls her eyes and pokes fun at Andy because she has no sense of fashion and wears a size 6 (which is the new 14 in the fashion world.)
The continually watchable Stanley Tucci almost turns Devil into My Fair Assistant with his confident portrayal of Nigel, a top-level coworker who takes Andy under his wing. I love the way the film shows Andy's transformation from a normal person into a fashion plate. As she rushes down and across Manhattan's streets, she wears different outfits viewers can "oh and ah" over -- but it only takes a few minutes of screen time. "My work is done here," Nigel declares when his protege chooses the right look completely on her own.
It's interesting how Andy's character also begins to change. She becomes so involved in her job and so determined to please Miranda that she neglects her friends, especially her boyfriend (Adrien Grenier of TV's Entourage). During a trip to Paris with Miranda, issues of loyalty and integrity take center stage as Andy discovers how close she has come to being like her ruthless boss.
While watching these Paris scenes, I couldn't help wondering why The Devil Wears Prada wasn't filmed as a musical. Both Streep and Hathaway have great singing talent, and the fashion sequences would sparkle with dancers in those colorful costumes. Plus, if I remember correctly, Tucci performed some terrific dance routines in Shall We Dance? Maybe in a couple of years the movie will be made into a successful Broadway musical which will then be transferred to the screen. It's happened before -- remember The Producers?
Directed with stylish sophistication by David Frankel (Miami Rhapsody) from Aline Brosh McKenna's (Laws of Attraction) smart adaptation of Lauren Weisberger's popular novel, The Devil Wears Prada emerges as not only a triumph for Meryl Streep but also a delightful experience for savvy moviegoers.
(Released by 20th Century Fox and rated "PG-13" for some sensuality.)